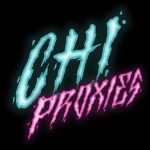 The world of sneakerheads comes first when it comes to dynamics and change. Millennials and Gen Z form the majority of sneakerheads and are responsible for spearheading the different series of changes we have seen in this industry.
When a sneaker drop was scheduled back in the day, sneakerheads would line up hours before the drop to get their hands on these limited-edition sneakers. As a result, the stock would sell out within the hour, showing just how high the demand was.
Today, sneaker releases happen online. The internet has given birth to a new generation of sneakerheads who buy sneakers from the comfort of their homes. This includes millennials and Gen Z sneakerheads who are copping limited edition sneakers like Air Jordans.
Whenever a sneaker drop is due, a sneakerhead will typically arm themselves with their tools of the trade: a sneaker bot and a reliable proxy. With these tools, they can cop as many sneakers as they want.
Consequently, limited-edition sneakers sell out in a matter of seconds. You will likely miss out on a sneaker drop without the right tools. With this in mind, this review will dive into one of the tools you will likely need for sneaker copping: proxy servers.
Specifically, the post will discuss a sneaker proxy provider called Chi Proxies. By the end, you should know whether this provider is the right choice for your copping needs.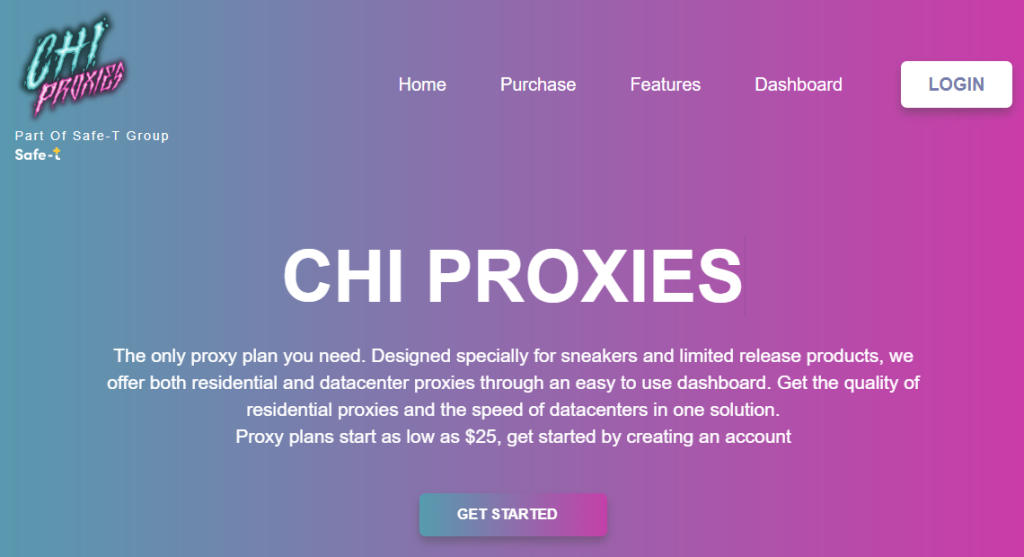 Chi Proxies Introduction
Chi Proxies is a relatively new proxy provider, having entered the market in 2017. This company takes a somewhat different approach from most providers. While most companies will offer proxies that can work for different fields, Chi Proxies has proxies tailored to work for shoe sites specifically.
In fact, the website says that the company's primary goal is to provide proxies that can help cop sneakers and limited-release products. As expected, Chi Proxies only deals with one kind of proxy: datacenter proxies. We expected this because datacenter proxies are known to work best for botting tasks such as sneaker copping.
On the downside, the proxies from this company have limited location availability, with a mere 15 locations supported. This is a massive flop, given other providers offer proxies in up to 190 locations. The section below will get into the intricate details concerning the company.

Chi Proxies Features
First off, it is worth noting that one of the most significant downsides with this provider is that you have to create an account and log in for you to see the different packages available and their features. Finally, it does not mention how many IPs it has in its pool.
This is a significant downside since when copping for sneakers, it is good to know the number of IPs in rotation as it gives you a general idea of how reliable the proxies will be for rotation.
While Chi Proxies has limited location support, it has chosen its datacenter locations deliberately to favor sneakerheads. The data centers are in Chicago and North Virginia. On the other hand, the residential proxies are located in 15 countries, which is not impressive.
Nevertheless, the datacenter support is great, since it means anyone from anywhere in the world can access these proxies and purchase limited-edition sneakers when drops are limited to Chicago and North Carolina.
Depending on how you look at it, this is still a downside, and here's why: what about when drops happen in other locations? The customers will have to resort to residential proxies since these are more diverse in terms of location coverage.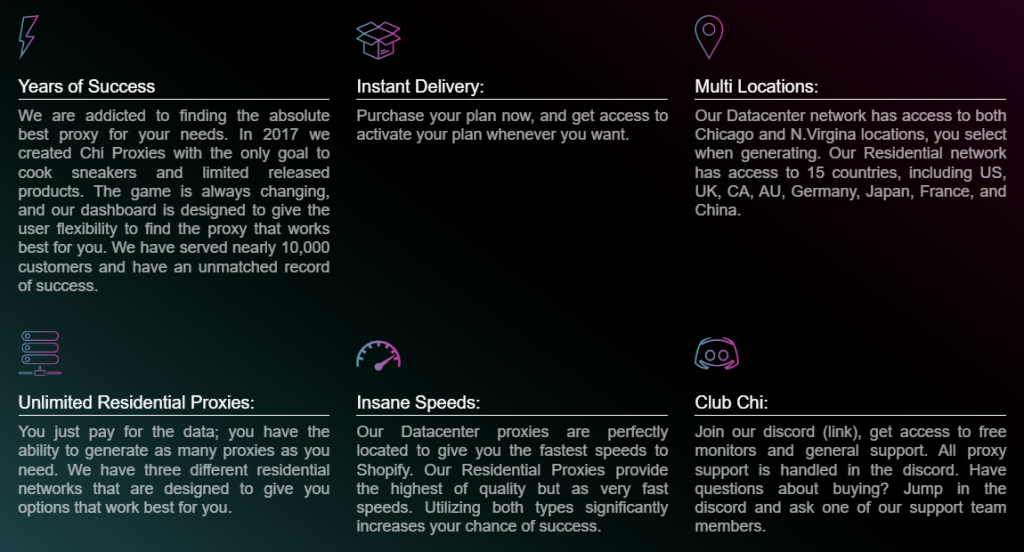 Types of Proxies
Chi Proxies offers two kinds of proxies to users: residential and datacenter. However, you will have to sign up for the service to get access to these proxies and the different features they offer.
While this provider has two types of proxies, they are divided into three different plans. The first is the Residential Proxy GB plan. The website guarantees these proxies will work for shoe sites such as Adidas, Nike, Footsites, Supreme, and Shopify.
The next plan is called Standard Datacenter Network. These proxies work for 30 days from the activation, after which renewal is due. Chi Proxies guarantees that they will work for sites such as Nike, Supreme, Shopify (non-bot protection), Yeezy Supply, and Footsites (at times).
The final plan is called Premium Datacenter Network. Chi Proxies claims these are proxies from a limited datacenter network hosted in North Virginia. It goes on to say that these proxies consist of tier-one ISPs, which means you get the best of residential and datacenter proxies.
A significant downside is that Chi Proxies only offers one method of authenticating proxies – username/password authentication. There is no support for IP authentication, a feature most premium-level proxy providers offer. Furthermore, this provider has no support for SOCKS5 proxies.
Chi Proxies Proxy Speed and Performance
Given that these proxies are designed for sneaker copping, they have decent speeds. Therefore, copping sneakers will not be a headache due to lagging. However, they can become unreliable since most are quickly flagged and disabled. You need to be particularly careful here as their success rates are not at all great either.
Additional Tools
Unfortunately, Chi Proxies does not seem to offer any additional tools for customers. While this provider has some amazing features, this is a significant downside since it deters the convenience of use. Why? Most proxy providers offer these tools to boost user experience. They include APIs, checkers, applications, and scrapers, but they are all lacking from this provider.
Purchase Simplicity
The Chi Proxies website might not be the best on the market, but it is still pretty decent. However, one of its most significant downsides is that you have to sign up to see what kind of packages are available. This is a big downside as some users might want to see what the proxies have to offer before signing up.
On the flip side, purchasing proxies once you sign up is not complicated. Chi Proxies has adopted the eCommerce strategy where you add products to the cart before purchasing at the checkout. Another benefit is that the proxies are delivered immediately when you purchase.
Chi Proxies Pricing
This provider does not have a list of how it prices its proxies, as with other premium-level providers. Therefore, once you select the proxy you want, you will only see the price on the checkout page. This strategy can become a huge inconvenience to undecided clients.
Chi Proxies prices its residential proxies based on the amount of bandwidth. In fact, the website says that you only buy the data from where you can generate as many proxies as you need. With this said, the pricing from this provider is a bit on the higher side since the cheapest plan starts at $25.
Accordingly, 1GB of residential proxy data goes for $25, which is quite expensive. As for datacenter proxies, you will be billed based on the number of proxies you purchase. The smallest tier starts at 25 proxies going for $40, which is pretty average.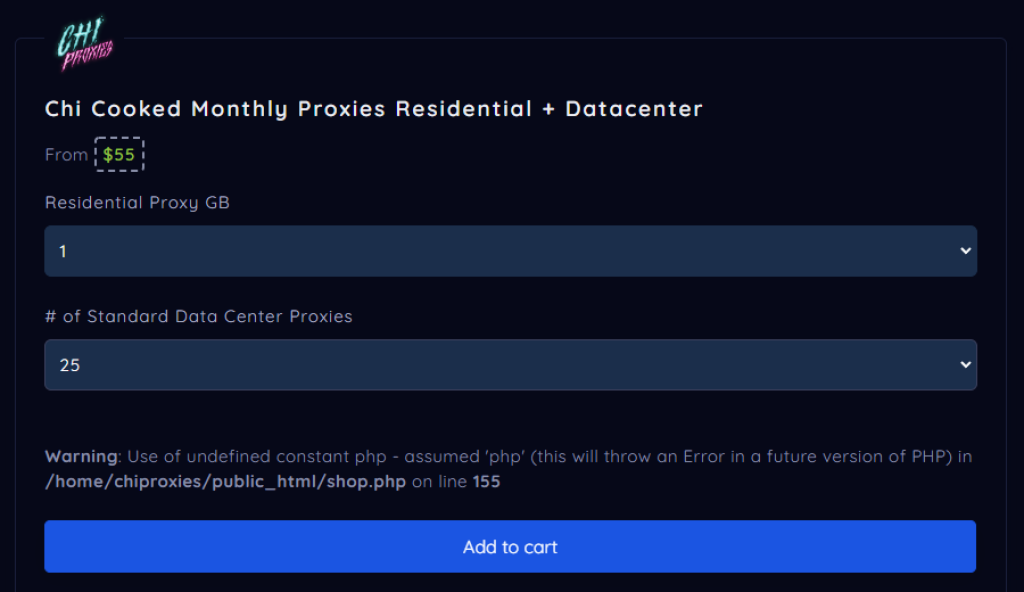 Chi Proxies does not offer any money-back guarantee or free trial for its services. It means there is no way for you to test out its services before making a purchase. Finally, once you make a purchase, you cannot get a refund if they do not work for you.
Chi Proxies Discounts
When purchasing from this provider, you get the option of entering your coupon code for a discount. Other than that, there is no other discount option from Chi Proxies. However, when you buy the proxies in bulk, it becomes cheaper. For instance, 25 standard datacenter proxies go for $40, and 100 go for $140, a $20 discount.
The bulk order discount is still insufficient since not all users may go for this option. Hence, it would be best if the website would introduce periodical offers that can benefit all users. This strategy is likely to attract more customers.
Is Chi Proxies Legit or a Scam
Chi Proxies is a legitimate company with a focus on meeting customer needs. Hence, you do not need to worry about scams while working with the provider.
However, there has been a consistent complaint about the success rates of these proxies. Ironically, these proxies are designed to work for sneaker copping but have poor success rates on these websites. In fact, most of the proxies from Chi Proxies get identified and blocked.
Customer Support
The customer support system at Chi Proxies is poor. There is only one way to reach the customer support team: Discord. While this is a good way of getting the users to interact through a common channel, it may only benefit a specific section of clients.
So, what happens when a user does not have access to Discord? Will they have to download the app, learn the ropes, and now navigate to talk to the support team? While Discord is a good application for the support team and the customers to talk, it would be great if the customer could add a different contact method such as live chat, email, ticket, or phone number.
Can You Earn Money With Chi Proxies?
From our analysis, there does not seem to be a way of earning money with Chi Proxies. We expected a dedicated affiliate page on the website, but it is lacking. Therefore, digital marketers looking to make money promoting Chi Proxies will be disappointed as this company does not offer this feature.
Chi Proxies Pros and Cons
With all that said, you may still be at a crossroads in deciding whether you want to work with this company. Not to worry, we have one more thing that could help you make your decision, a pros and cons list. Have a read below:
Positive
Decent speeds 
Instant proxy delivery
Negatives
No free trial 
No refund policy 
One authentication method 
Poor location support 
Questionable proxies 
Poor customer system 
Final Verdict
By now, you might be asking yourself whether we recommend Chi Proxies. The simple answer is no. While the website claims to service around 1,000 customers, their services themselves are wanting.
The proxies have decent speeds, but their success rates are low and most of them are flagged. Moreover, the only way to access the customer support team is through Discord, which may not work for some users. Lastly, the only way for users to get access to the proxy features is by signing up.
Therefore, this provider has some problems to patch up before it can be ranked in the same category as other top-tier providers. Given the website mentions that these proxies are designed to work on shoe sites, the developers still have to iron out the kinks for them to work correctly.
Chi Proxies Alternatives
Given the shortcomings of this provider, we recommend several other companies that offer better service quality. They are listed below:
With more than two million IPs in its pool, this is an excellent alternative to Chi Proxies. IPRoyal has direct ways of reaching its customer support team, such as live chat, which is another great plus.
BuyProxies has a positive customer perception, making it a good alternative for Chi Proxies. It offers datacenter proxies at affordable prices.
Webshare is renowned for its unbeatable prices. It will be a good alternative if you are looking for functional proxies on a budget.
FAQ
Chi Proxies is a legitimate company. Apart from a few shortfalls, this is a legitimate company offering honest proxy services.
What kind of proxies does Chi Proxies offer? 
Chi Proxies offers residential and datacenter proxies. These are divided into different categories depending on the need.
Does Chi Proxies have a money-back guarantee? 
Unfortunately, Chi proxies do not have a money-back guarantee. You have to pay to get access to the services.