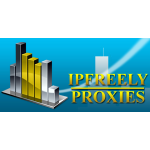 What makes a proxy provider great? What makes their service stand out from the pack? You need to check several factors before deciding to purchase proxies from any provider.
The first and arguably most important is the proxy speed. You wouldn't want a slow proxy service, would you? Next up, you need to check for proxy coverage. What locations does the provider support? Is your preferred location supported?
After that, you need to check the kind of proxies available. Note that different proxies have varied advantages and disadvantages. Other factors you need to check for are the integral features supported by the proxy service, such as authentication and SOCKS5 support.
Now that you know how to check for a good proxy service provider, you might be at loggerheads on where to start. To help you out, we'll analyze one of the lesser-known proxy service providers on the market today: IPFreelyProxies.

IPFreelyProxies Introduction
IPFreelyProxies is a US-based proxy service provider. The company specializes in private datacenter proxies and doesn't offer shared proxies. In fact, if you look at the website, you will notice that it has a very strong language against them.
The website states, 'Shared proxies are like using the rubbish bin leftover food scraps from other dinners in a restaurant to create your meal you ordered, very unsafe.'
A good thing with IPFreelyProxies is that it goes straight to the point. The website tells you what the company offers without beating around the bush. For example, upon reading the website, you will notice that the provider is transparent about not offering emailing proxies. They also do not support Craigslist or any other website that requires geolocation.
However, one evident and significant downside is that the website seems outdated. In fact, nothing about the IPFreelyProxies website makes it seem like a professional website. It lacks the modern feel of the current generation, which might turn away potential clients.

IPFreelyProxies Features
The proxy features from this company are minimal, to say the least. For one thing, IPFreelyproxies does not mention the locations it supports. We do know that most are from the US.
The company says that it does not offer support for websites that require geolocation. This is the fundamental reason it does not disclose the location to customers. As mentioned earlier, this provider is against shared proxies.
Instead, the provider mentions that it gets fresh dedicated proxies for users. It does not mention where these proxies come from, so there is no way of knowing whether it purchases them from peer-to-peer networks or owns its servers.
Finally, the website does not mention how many proxies it has in its pool. However, each proxy plan has a specific number of allocated IPs, as we will see later. Therefore, it is pretty evident that this website is quite secretive about its services. Given that it does not support geolocation, the chances are high that it has minimal IPs in its pool.
Types of Proxies
IPFreelyProxies does not support sticky and randomized sessions as you expect from a premium provider. Instead, it only supports sticky sessions for all its subscription plans. However, you get the option of randomizing the IPs during monthly renewal.
This provider only seems to provide IP authentication, a significant downside since most premium proxy providers have both username/password and IP authentication for the client's convenience.
What's more, this provider does not offer SOCKS5 proxies, which is another significant downside. Therefore, the proxies from this company are only helpful to the small-time average consumer since they lack premium features.
For instance, the lack of randomized sessions means that these proxies may be less efficient for botting and other activities that send repetitive requests. What's more, customers have little in the way of convenience since only one authentication method is supported.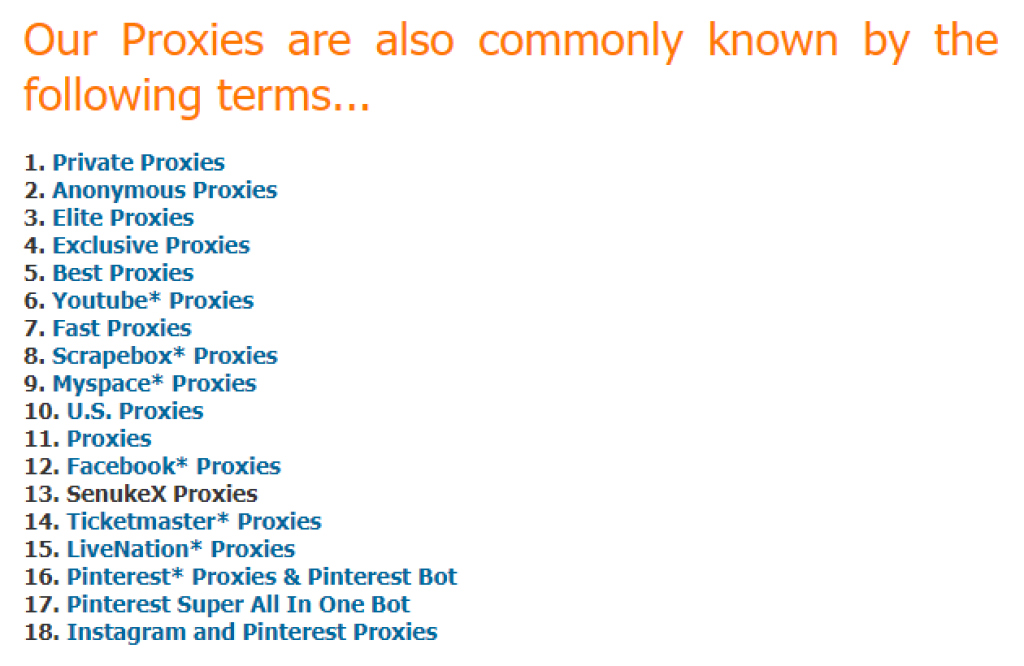 IPFreelyProxies Proxy Speed and Performance
When it comes to speed and performance, it goes without saying that these proxies should be good performers. Why? They are private proxies meaning you will be the only user once you purchase. What's more, these are datacenter proxies, so they should be fairly fast.
However, there is limited information online on IPFreelyProxies' speed and performance. The main website does not mention anything to do with speed either. Therefore, we emailed the support team hoping for a response on the average speed their proxies offer. They responded by saying that the speed is determined by location and ISP (which is true). However, they did not mention any specific numbers in their reply.
Additional Tools
In all truth, IPFreelyProxies is quite limited regarding features and additional tools. We tried scouring the site, hoping to find a mention of additional features. Unfortunately, the provider does not seem to offer any tools, whether proxy checkers, scrapers, or APIs.
Purchase Simplicity
The IPFreelyProxies website is outdated and dull. The homepage is a massive block of text that you probably will get tired of going through. Hence, the creators need to revamp the current website design to today's standards.
While the website seems a bit old, navigation is pretty straightforward. At the top is a menu bar with the option 'Buy now.' Once you select it, it will lead you to a page with all the proxy subscription plans available. Under each plan is a button you can use to make the purchase.
One odd thing is that no registration is required before purchasing the proxies. Once you click, you are redirected to the purchase page via your preferred payment system.
IPFreelyProxies Pricing
The pricing plan offered by IPFreelyProxies is somewhat odd and unique. First off, the company prices its services based on the number of IPs. There are seven packages, each with a different number of IPs and a different number of proxies.
The packages start from 20 IPs to 400 IPs. All of them offer multiple subnets and have unlimited bandwidth. The cheapest tier, which offers 20 IPs and 22 proxies, goes for $33.60 per month, while the most expensive plan, which offers 400 IPs and 440 proxies, goes for $500 per month.
One of the most significant downsides of this company is that it does not offer any money-back guarantee for its services. The website mentions that the services are non-refundable since the proxies cannot be recycled. The website does not offer a free trial for its services either.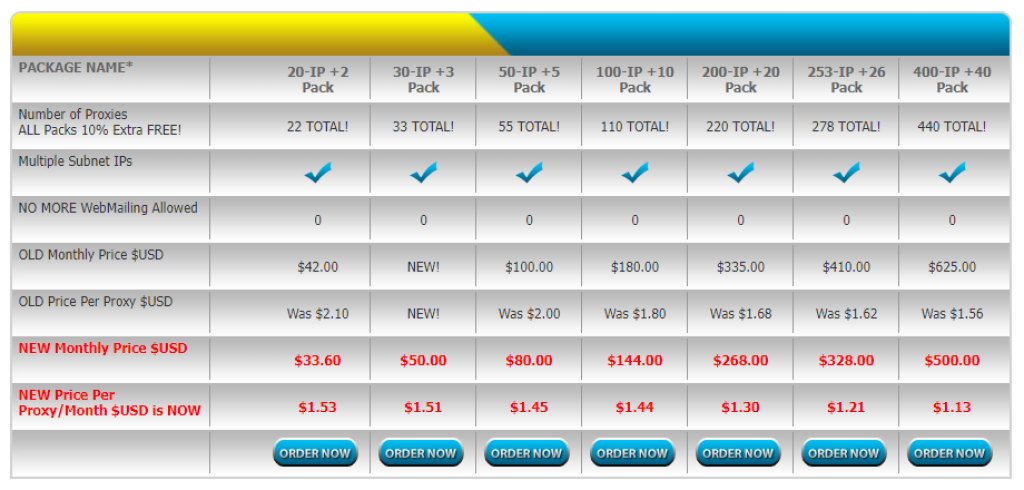 IPFreelyProxies Discounts
This provider does not explicitly mention that it offers discounts for its services. However, the more IPs you buy, the cheaper they get. This does not imply that the discounts are substantial. They are unnoticeable even when you purchase the bigger plans.
Under the cheapest plan, one proxy goes for $1.53 per month. If you upgrade to the most expensive plan, one proxy goes for $1.13 per month. This is a miniature discount, and most customers may not even realize it.
Is IPFreelyproxies Legit or a Scam
IPFreelyProxies is a legitimate company that specializes in private datacenter proxies. Despite lacking the most valuable features, their services are legitimate, so you do not have to worry about getting scammed out of your hard-earned money.
However, while the services are legitimate, there is no way to check the robustness of the proxies and see which websites they support since this company does not offer a free trial or any money-back guarantee. So, you will be going in blind since they will not refund your money in case you run into any issues.
You can take solace because customer reviews for this company are generally positive. Most consumers are generally satisfied with working with IPFreelyProxies as the proxies work effectively.
Customer Support
Customer support is where this company flops massively and falls way behind its competitors. If you click on the 'Contact Us' button from the menu bar, you will be redirected to a page that says the support system is broken. This may turn away many customers since it indicates negligence.
Due to this system error, there is only one sure way of contacting the customer support team: using the email provided. The site lacks a live chat option and the ticketing system popular with many websites. Suffice to say, the customer support aspect of IPFreelyProxies needs some work.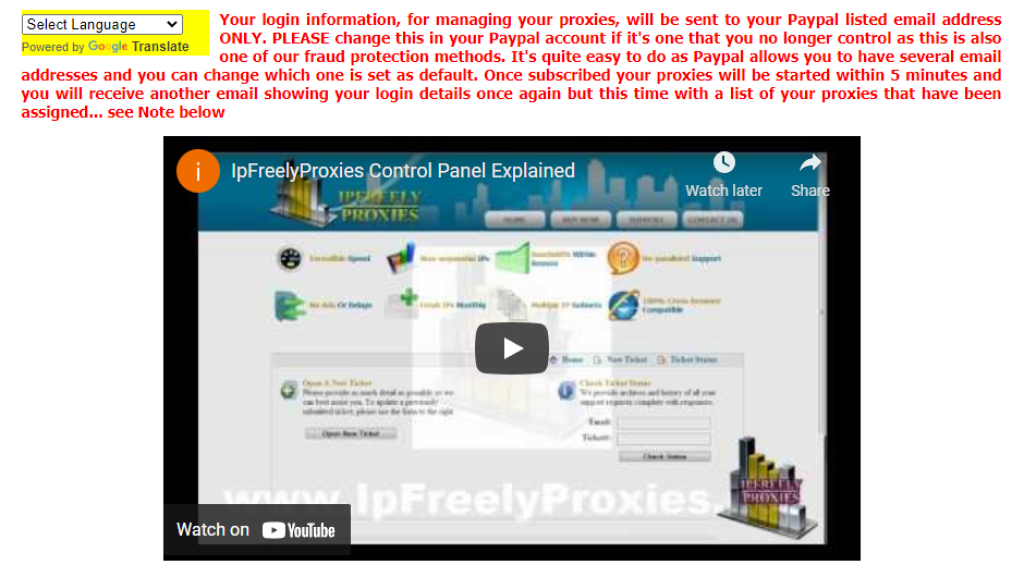 Can You Earn Money With IPFreelyProxies?
IPFreelyProxies has an affiliate button at the bottom of the home page, indicating an affiliate program for users interested in earning money with the provider. However, upon clicking, you will visit a page that says the website is not working.
This means the company is yet to optimize this page. It is another instance that alludes to negligence on the company's side since it should be working on fixing such mistakes.
IPFreelyProxies Pros and Cons
IPFreelyProxies as a proxy provider has some areas where it does a genuinely good job, and in others, not so much. With this in mind, we have compiled a list of pros and cons that can help inform your decision to work with the company.
Positive
Private proxies 
Competitive pricing
Negatives
Only one authentication method supported 
No SOCKS5 support
No free trial 
No money-back guarantee
No rotation
Pros
Below are some of the pros of working with IPFreelyProxies.
The proxies from IPFreelyProxies are private, meaning you are the only one implementing them at a given time, which translates to better efficiency.
IPFreelyProxies prices are significantly lower than you can get with most other providers.
Cons
The provider has significant downsides that are listed below.
Only one authentication method supported
The website only offers IP whitelisting and does not support username/password authentication.
Users in need of SOCKS5 proxies will have to look for alternatives as this website does not offer them.
IPFreelyProxies does not have a free trial for its services, meaning you cannot test their efficiency before making a purchase.
A significant downside is that you cannot get a refund once you pay for the service.
IPFreelyProxies offers sticky sessions and does not support randomized sessions.
Final Verdict
After a thorough analysis of IPFreelyProxies, it is pretty evident that this provider falls behind in several areas. First off, despite having a strong attitude towards shared proxies, this provider only offers private datacenter proxies and nothing else. There are no specialized proxies for web scraping or sneaker copping.
What's more, despite offering one kind of proxy, it is not optimized and may not work on certain websites. IPFreelyProxies does not guarantee that its proxies can work in sites such as Nike. Hence, IPFreelyProxies has limited use cases and might not work for some users.
Ratings
Positive
Private proxies 
Competitive pricing
Negatives
Only one authentication method supported 
No SOCKS5 support
No free trial 
IPFreelyProxies Alternatives
It is evident that IPFreelyProxies a lot less than a premium proxy provider, and perhaps this is why it is not popular. With this in mind, below are some alternatives.
IPRoyal is a true premium proxy service provider. It has an IP pool spanning more than two million addresses and offers sneaker proxies, mobile proxies, residential proxies, and datacenter proxies.
Oxylabs is a premium provider with city-level geotargeting and flexible rotation plans. It offers both residential and datacenter proxies.
This provider has both datacenter and residential proxies. It has more than 40 million residential IPs in over 195 locations.
FAQ
Is IPFreelyProxies legit?
Yes, IPFreelyProxies is a legitimate company focused on private datacenter proxies. All the IPs from this company are dedicated.
Does IPFreelyProxies offer refunds?
IPFreelyProxies has a stringent no refund policy. Once you pay, they cannot reimburse you in case of any issue.
Does IPFreelyProxies support geolocation?
IPFreelyProxies does not support geolocation. This is why it does not disclose its locations to users.