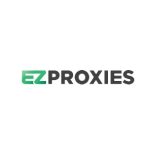 It seems like a new proxy company is coming up every week. All these providers claim to offer top-tier services for customers, and if you are one of these users, you might get confused. You might wonder which provider to go with as all claim to be the best. The best place to start when making a decision is to check for reviews.
With this in mind, we'll dive into the nuts and bolts of ezProxies, a proxy provider with a proven record of tending to clients worldwide. The review will unpack its features, pros, and cons so that you know all there is to know about this company before you decide whether to work with it or not.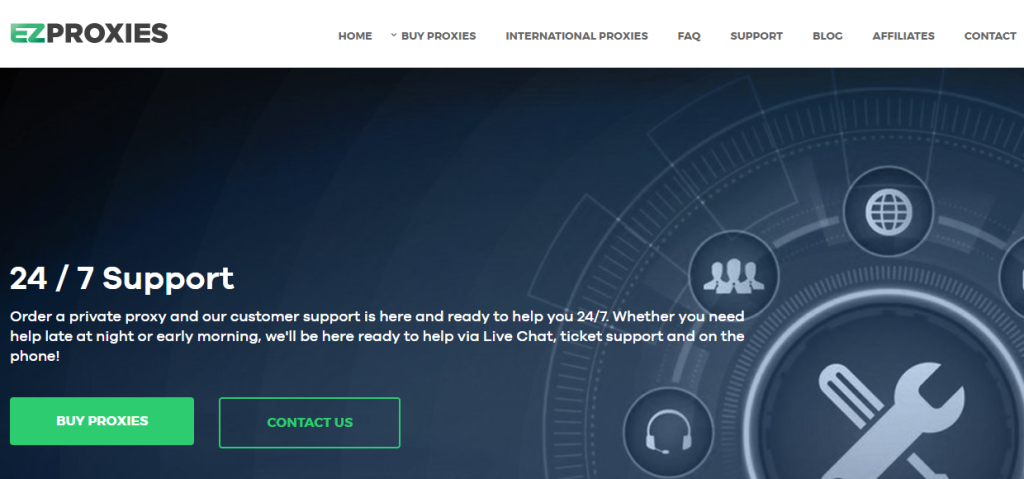 ezProxies Introduction
ezProxies is a proxy service provider based in Portland, Oregon, USA. Over the years, the company has built a platform for itself and gained a considerable audience base in the highly competitive proxy market.
It offers a choice of shared and dedicated proxies for users where the former is cheaper than the latter. With a great customer support team and various payment options available to its users, ezProxies has a proven record of meeting customer expectations.
eZProxies Features
First off, you should note that ezProxies does not mention how many proxies it has in its pool. This is probably because the company only offers static proxies, meaning no rotation.
Therefore, the only way to change your current proxy is to ask the support team. However, ezProxies maintains that its proxies are good quality, and websites will not detect them.
ezProxies is very open about the proxy locations, which most providers avoid. However, the only way to get proxies from different locations is by selecting the international proxy package.
The locations are divided into Asia, Europe, and America. Under Asia, you get Israel, Japan, and Singapore. Next up, Europe has nine countries represented: France, Italy, UK, and Denmark. Finally, you get two countries, Canada and the US, under America.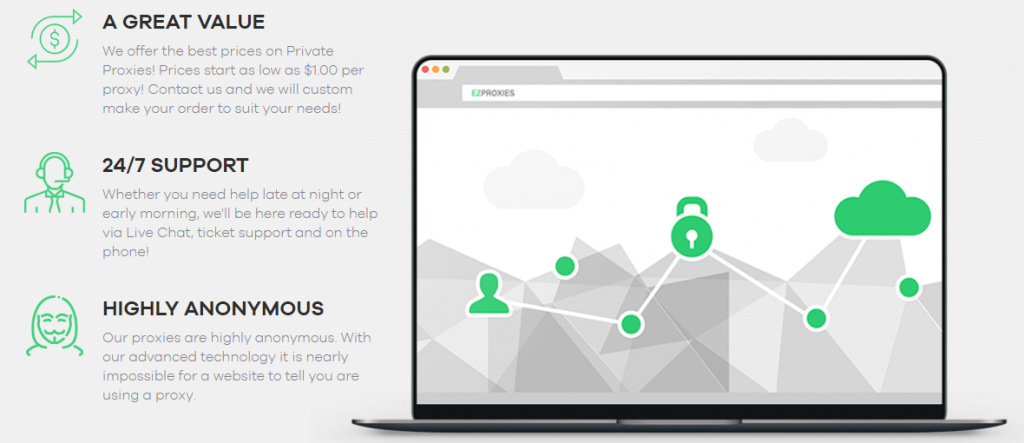 Types of Proxies
As mentioned earlier, ezProxies only supports static sessions and not randomized sessions. Therefore, once you are issued with an IP address, the only way to change it would be to ask the support team to do this for you. This is a significant downside because the proxies are likely to be flagged when performing repetitive tasks like copping sneakers.
On the flip side, ezProxies supports both IP and username/password authentication. This is a significant plus for users as it allows selecting the authentication method that suits them.
That is not all. The company also has exclusive SOCKS5 proxies. These come as a separate package with a different pricing plan. Therefore, users exclusively looking for SOCKS5 proxies will be at home with ezProxies.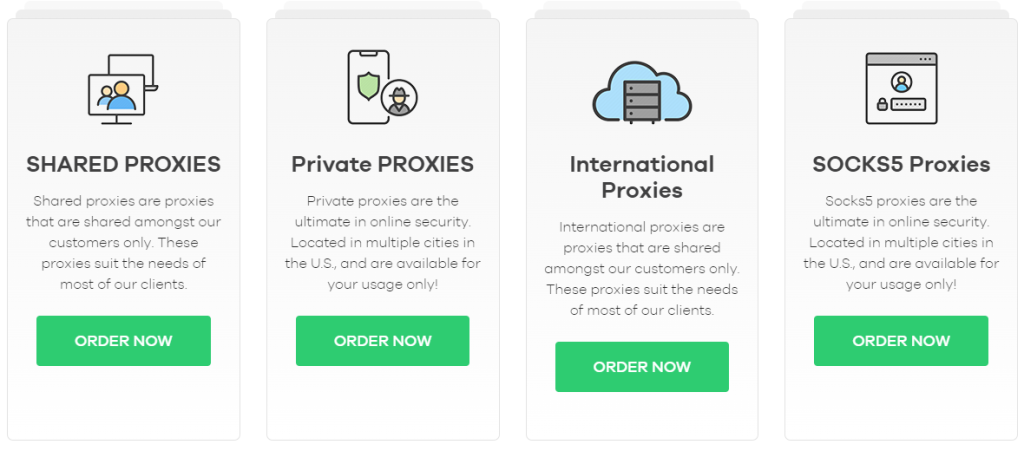 ezProxies Proxy Speed and Performance
When it comes to speed, ezProxies shines. The download speeds average about 20 Mbps and can even reach 200 Mbps. However, proxy speed becomes less important when the proxies get detected, which is the case with most proxies from this company. Therefore, the company fails
to live up to its word of offering quality proxies to its customers.
Furthermore, if you are looking for location diversity, then ezProxies might not work. This is because most proxies from the provider are from the USA. Granted, ezProxies does not make false promises about its locations, so we expected this.
Additional Tools
Unfortunately, ezProxies does not seem to offer additional tools to complement the proxy service. There is no mention of an API or proxy checker on the website, which is customary with most proxy service providers. Therefore, users looking for proxies with such features will be forced to work with alternatives.
Purchase Simplicity
The ezProxies website is easy to use and follow. The design is modern, with everything well laid out for the user. There is no fluff like other websites that fill up the homepage with things of no benefit to the user. The homepage contains informative data and tools that help users get started with the service.
Purchasing a proxy is relatively simple as the purchase buttons are conspicuous on the webpage. If you have not signed up, you will first be asked to sign up for the service before purchasing the proxies. The sign-up process itself is pretty simple. All you have to do is provide your name, email address, and password.
You will then be asked to provide your address and phone number, plus your preferred payment method. However, you should note that this process can be a downside for some users. This is because purchasing proxies is the only way to sign up. So, what happens if a user simply wants to have a feel of the service offered by the company?
ezProxies Pricing
ezProxies uses a monthly price per proxy pricing plan for all its packages. The subscription plans available include shared proxies, private proxies, and international proxies.
There are four different pricing plans for the shared proxies divided into the number of proxies available, which is 50 proxies at $1.30 per proxy, 100 proxies at $1.10, and 500 proxies at 0.65 per proxy.
The private proxies, being dedicated to one user, are more expensive than shared proxies. The pricing model is the same, starting at ten proxies for $2.00 each. Next up, you get 25 proxies at $1.90 each, 50 proxies at $1.80 each, 100 proxies at $1.50 each, 250 proxies at $1.40 each, and finally, 500 proxies at $1.20 each.
The pricing plan for the international proxies is quite different from the others. International proxies from the USA are cheaper than the others starting at $2.00 for ten proxies. The other international proxies start at $3.00 for ten proxies.
One significant downside of this service is that it lacks a free trial or a money-back guarantee. It would have been better if they had introduced a proxy tester tool. Therefore, there is no way for users to test the services without risking their finances.

ezProxies Discounts
ezProxies does not necessarily mention that it has discounts for the services offered. However, if you look at the subscription plans, you will notice that the more proxies you buy, the less you'll pay.
This is evident in all the subscription plans. For instance, ten proxies go for $2.00 each under private proxies, while 500 proxies go for $1.20 each. The company also has promo codes and special discounts.
Is ezProxies Legit or a Scam
ezProxies is a legitimate company with honest services and a proven record of meeting customer expectations. The proxy services are legitimate, albeit they may not be as robust as you'd imagine. One of the most appealing aspects of this provider is impressive upload and download speeds suitable for complicated tasks.
However, the customer reviews are on the negative side. Most customers complain that the proxies do not work for sites such as Facebook and the customer support is unresponsive to their queries.
Customer Support
ezProxies has one primary way you can communicate with their customer support team: a ticketing system. Here, you start by providing your name, the topic, and a description. You also choose whether the ticket is low, medium, or high priority.
Another impressive thing is that the system automatically suggests knowledge base articles before submission. If you feel like these articles do not answer your question sufficiently, you can contact the support team.
A downside is the lack of a live chat feature which some users find more convenient as it is a more direct way of reaching the customer support team. There is also no phone number you can use in urgent situations.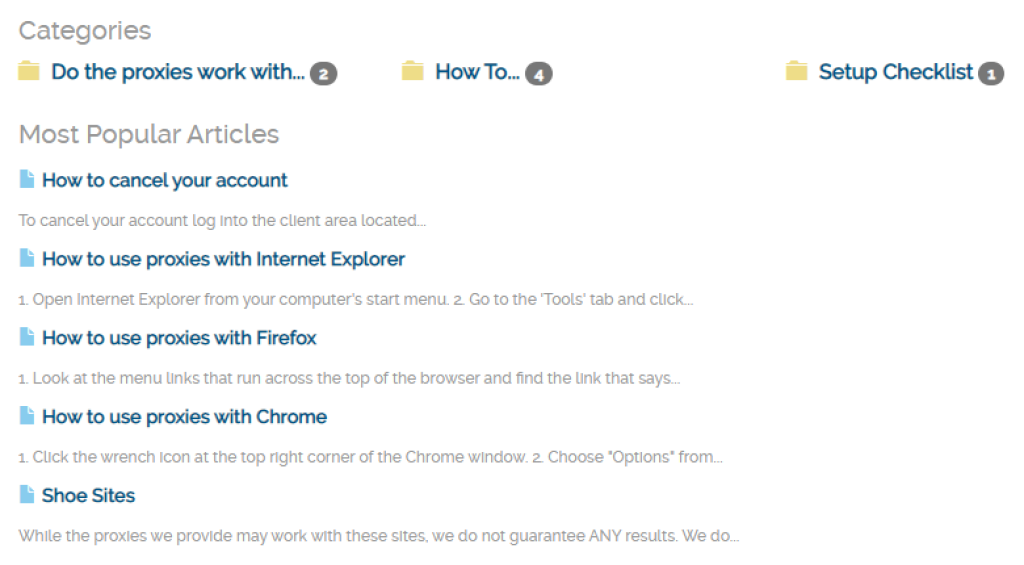 Can You Earn Money With ezProxies?
ezProxies has an affiliate program you can use to earn money advertising their services. The program is free to join for all interested users. Once you sign up, you are supplied with the material, which may include text, banners, and links for you to place on your site. You then get 50% for each sale with a minimum payout of $100.
ezProxies Pros and Cons
ezProxies is a decent provider with a good record, but this does not necessarily imply that it excels on all fronts. Just like any other company, it has its ups and downs, and these are some of the factors that might motivate you to work with the company or to look for alternatives instead. They are listed below:
Positive
High speeds 
SOCKS5 Proxies 
Dual authentication
Negatives
No free trial
No money-back guarantee 
Questionable proxies 
Pros
Below are some of the advantages of ezProxies.
ezProxies offers users some pretty decent speeds for its price range. They also have 99% uptime which is another advantage.
ezProxies is one of the few providers that offers SOCKS5 as a separate exclusive package for users.
ezProxies offer both IP and username/password authentication methods for users, which goes a long way as far as convenience is concerned.
Cons
Despite having its upsides, there are some areas where ezProxies falls short and fails to meet customer expectations.
Unfortunately, this company does not offer a free trial for its users. Therefore, there is no way for you to test out the proxies before buying them.
Once you buy the proxies, there is no money-back guarantee. Hence, the company will not reimburse your funds if the proxies don't work for you.
Despite offering pretty decent speeds, some of their proxies can be flagged by websites.
Final Verdict
From the information above, it is evident that ezProxies is a legitimate proxy service provider that strives to meet customer needs. Some of its advantages include SOCKS5 Proxies, good speeds, and two authentication methods. However, the provider has its downsides as well.
For instance, you do not get a free trial or a money-back guarantee, as with many other premium proxy providers. This is a significant downside as you can't test the services. You cannot sign up for the service without buying a proxy which is another massive inconvenience for users.
Therefore, we recommend ezProxies for activities that do not require extreme anonymity. This is because the proxies, while fast, can be detected by most websites.
Ratings
ezProxies Alternatives
With the numerous downsides of ezProxies, you may be inclined to go for other providers. In all truth, numerous providers offer similar and even better features than ezProxies.
Sneakerheads are likely to find a home with MarsProxies. This provider is known to offer state-of-the-art sneaker proxies capable of high-level copping.
TrustedProxies offerd high-level proxies with a focus on web scraping and SEO activities. Therefore, it's a great option for SEO marketers and data analysts.
ProxyCrawl is another provider with a focus on web crawling. Apart from proxies, this provider has several other web scraping tools.
FAQ
Yes, ezProxies is a legitimate company that focuses on datacenter proxies. You can purchase shared and private proxies from the platform.
Does ezProxies offer a free trial?
Unfortunately, this provider does not offer a free trial or a money-back guarantee.
Does ezProxies have an affiliate program?
Yes, ezProxies has an affiliate program. It is free to join with minimum payouts of $100.