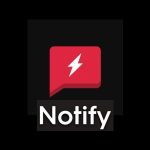 The actual mechanics of how the internet works is not something many people stop to consider. If anything, very few understand how computers connect over this vast network and share information.
At the core of the internet are IP addresses. They are designed to identify different devices over the web. You can think of IP addresses as regular addresses since they serve the same purpose.
An IP address determines where information is directed and ensures every request reaches this destination. Without IPs, there would be no way for information to be shared over the internet. While they serve this crucial purpose, there are times when you might be inclined to hide your IP address.
This is where proxies come into the picture. A proxy server is designed to hide your IP address and provide an alternative one depending on your specific needs. But where exactly are you supposed to source these tools? In this post, we will analyze one of the long-serving proxy service companies: Notify Proxies.

Notify Proxies Introduction
Notify Proxies is one of those companies that has been in the market for a while. This company first began to service customers in 2017, meaning it has five years of experience.
You would expect a company this old to have diversified its services by now, right? On the contrary, Notify Proxies has some basic features, which is a significant letdown. Regardless, this provider still has a massive following on social media sites such as Twitter and Reddit.
Notify Proxies specializes in residential, datacenter, and ISP proxies. Note that there is a stark difference between these proxies. Residential proxies, for example, are connected to internet service providers meaning they are less likely to get discovered.
On the other hand, datacenter proxies get their IPs from datacenters set up in different parts of the globe. These usually are less reliable than their residential counterparts. Lastly, ISP proxies are simply datacenter proxies that get their IPs from ISPs.
With that out of the way, let us now look at some of the features Notify Proxies has to offer users. The goal is to determine whether this company's services are as good as advertised and whether you should give it a chance.
Notify Proxies Features
When you work with Notify Proxies, you will notice one thing. This provider is quite secretive about how it works and its features. It does not disclose how many IPs it has in its pools and how its network functions.
We know, however, that this company has one datacenter in Ashburn, Virginia. On the other hand, it has more locations for residential proxies, although it still does not match market standards. Some notable supported areas include the United Kingdom, United States, Germany, Japan, and Canada.
Therefore, the location diversity from Notify Proxies is fairly poor. Premium companies offer proxies in 190 countries or even more. The fact that this company is secretive about its proxy pool is another significant letdown and raises questions.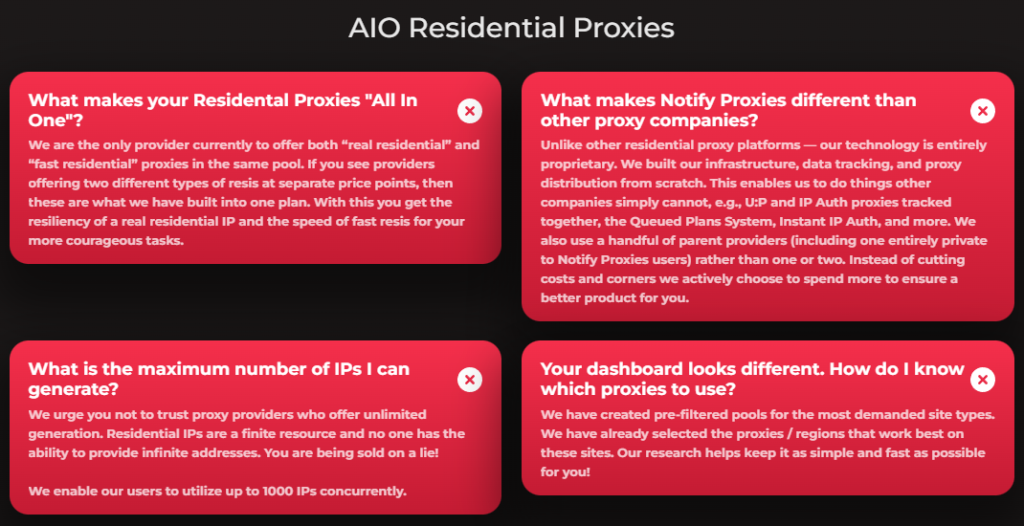 Types of Proxies
As mentioned earlier, Notify Proxies offers three proxies: residential, datacenter, and ISP. There are no mobile proxies here, meaning users looking for such will have to look for alternatives.
With these proxies, you cannot generate as many IPs as you wish, as with many other providers; the maximum you can generate is 1,000 IPs. This is an indication that this provider has a modest proxy pool.
The authentication method this company uses is somewhat complicated and unique. It also depends on the kind of proxy you are using. For instance, if you use data center proxies, you will only get username/password authentication.
On the other hand, residential proxies only get IP whitelisting. This is a somewhat strange structure and may put some users off. Why not use a standard authentication method or both? Lastly, this company does not seem to be offering SOCKS5 proxies.

Notify Proxies Proxy Speed and Performance
When using a proxy, it is customary to expect a drop in speed since a bottleneck is introduced once your internet traffic is rerouted through the proxy server. You should also note that no provider has a stable and fixed internet speed. This is because internet speed is determined by several factors, including your ISP's capabilities, your usage scenario, and the distance from the server.
With this in mind, this provider claims to offer stellar speeds with 99% uptime. In other words, its proxies will rarely become unresponsive, if ever. Also, the speeds are relatively impressive as the company claims they will be the same as your internet service provider. Note that we could not get any real-world data on speeds from this provider, and the customer support was not helpful either.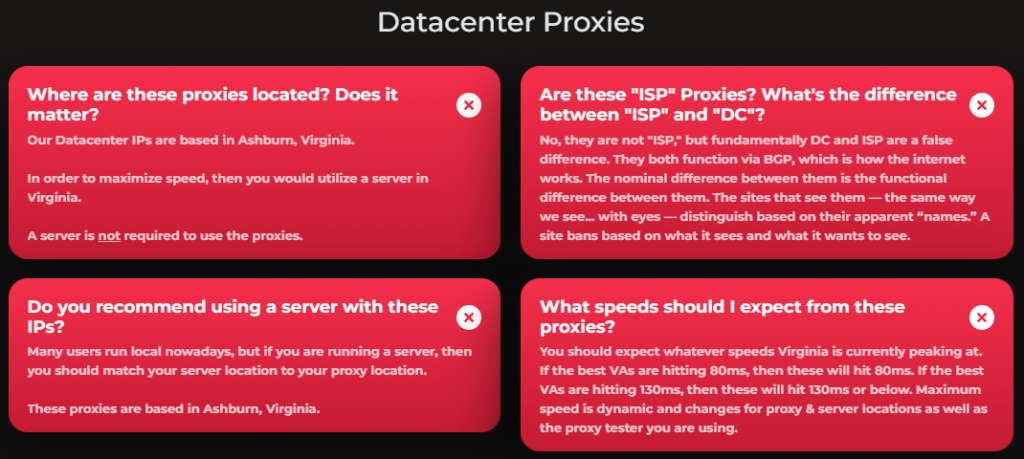 Additional Tools
From what we could gather, Notify Proxies does not complement its proxies with any additional tools. Many providers offer users a proxy checker, API, or scrapers free of charge, but all these tools are lacking on the main website. This is a significant downside as it limits user experience.
Purchase Simplicity
The Notify Proxies website is nothing short of intuitive. It has a sleek and modern design that is pretty easy to use. Moreover, it has information presented in an easy-to-follow format.
Purchasing a proxy from Notify Proxies is fairly complicated. You can buy straight from the website as this is where the different kinds of available proxies are displayed. However, if you do not have an account with the platform, it becomes way more complicated.
This is because you must sign up to make a purchase, and while signing up is not a problem, the issue is where to sign up. You will be redirected to an unresponsive page if you do not have an account.
You will have to go to the dashboard, where you will be given the option to sign in. There seems to be no option to sign up to the platform, and from the information provided, you have to talk to the support team.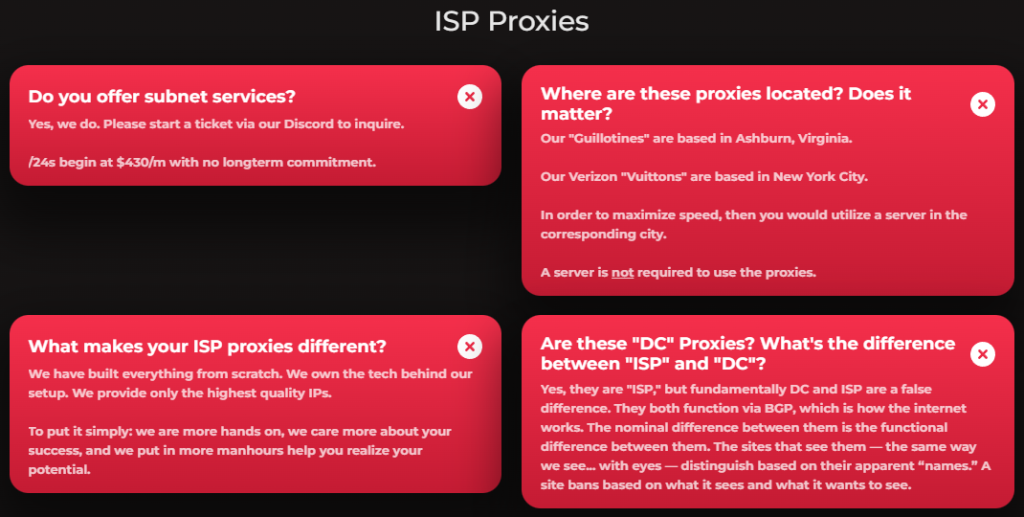 Notify Proxies Pricing
The pricing structure at Notify Proxies is on the higher side and might work for most solopreneurs or individuals. The provider prices its proxies based on the amount of bandwidth bought.
With this in mind, 1 GB of residential proxies starts at $20, an outrageously huge sum. The datacenter proxies are cheaper, starting at $13 per GB. Finally, the ISP proxies, sold out at the time of this writing, start at $47.50.
These figures are incredibly high, especially for bulk users. This is because you can find yourself spending thousands of dollars on bulk orders. To make matters worse, this provider does not offer any money-back guarantee or free trial for its services.
Therefore, we can confidently say that Notify Proxies are pretty expensive. Many providers offer proxies with matching and even better features for significantly lower prices. What's more, the lack of a free trial or money-back guarantee is another significant downside.
Notify Proxies Discounts
Notify Proxies has a running discount for their proxy service. This includes a 25% discount upon the first purchase. While this is a reasonable offer, it's sad that it is the only discount available on the site. It would be better for the provider to introduce periodic running discounts given the high prices it charges for the proxies.
Is Notify Proxies Legit or a Scam
Notify Proxies is a legitimate company with a proven track record of serving customers worldwide. The payment methods available are safe and secure, which adds to the company's credibility. Finally, the website is also HTTPS secure, which means your privacy is guaranteed as you use the service.
Customer Support
The customer support system at Notify Proxies is poor. For one thing, it lacks a live chat feature, which would improve the user experience. Most companies that lack this feature use a ticketing feature instead, but this is also lacking. In fact, there is no way to contact the support team via the main website.
You can only reach the customer agents via social media channels such as Twitter or Discord. You can also send them an email. Still, these are insufficient ways of reaching the support team. It would be better for Notify Proxies to introduce a live chat or ticketing feature from the main website.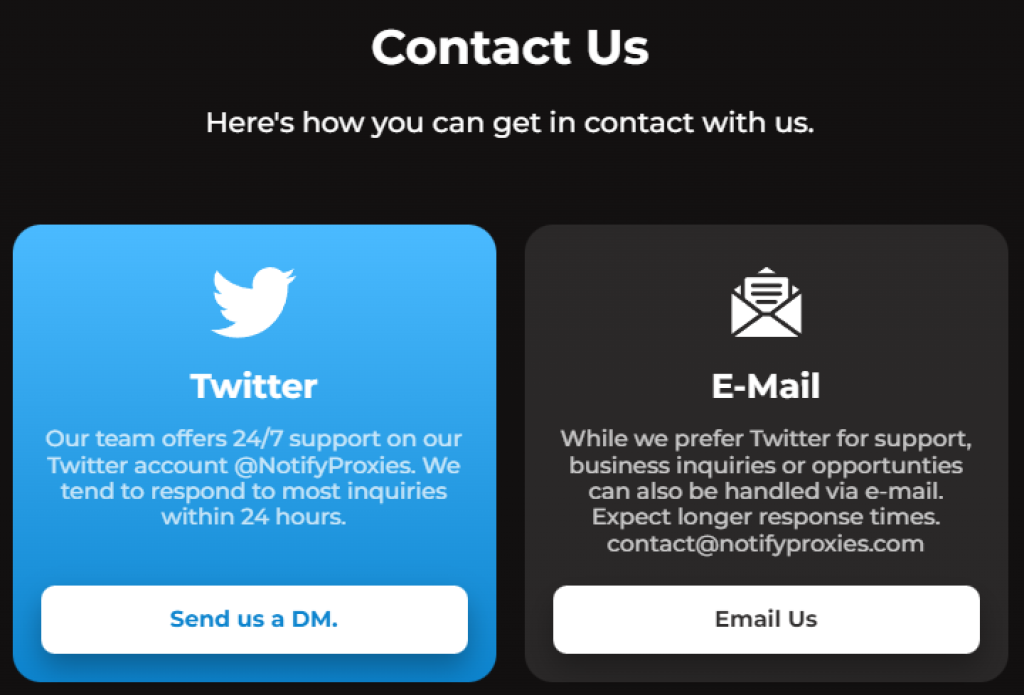 Can You Earn Money With Notify Proxies?
One of the most significant downsides of this provider is that it does not seem to offer an affiliate program for its customers. This implies that users cannot earn money while working with Notify Proxies as there is no affiliate page on the main website. Regular proxy service providers have an affiliate page with information on how users can earn money, a feature that is lacking here.
Notify Proxies Pros and Cons
Based on your needs, Notify Proxies may or may not work for you. You might have to look for alternatives if this provider fails to meet your proxy needs. With this in mind, below are some of the pros and cons of Notify Proxies.
Positive
Good proxy diversity 
Good speeds 
Decent location coverage
Negatives
No free trial and money-back guarantees
Limited features 
Limited locations 
ISP proxies often out of stock 
Expensive 
Pros
Below are some of the advantages of working with this provider.
The provider has residential, datacenter, and ISP proxies.
The proxy speeds are pretty decent and should work fine for most tasks.
If you need residential proxies, you can pick their locations from multiple continents.
Cons
No free trial and money-back guarantees
Notify Proxies does not offer any free trial or refunds for users who find the service lacking.
Despite the high prices, the features Notify Proxies offers are pretty basic.
The website is secretive about its location support and only mentions one location for datacenter proxies.
ISP proxies often out of stock
You will likely find the ISP proxies unavailable while looking at the different packages.
The website charges premium prices for a set of fairly basic features.
Final Verdict
It is clear that the cons of this provider far outweigh the pros. Consequently, we can't recommend working with Notify Proxies. The customer support system at Notify Proxies is poor. There is no live chat feature on the website, and you will have to use other channels to reach the agents. The service is also quite expensive for basic features. These are some of the reasons why we can't recommend Notify Proxies.
Ratings
Below average
Score by our metrics
Positive
Good proxy diversity 
Good speeds 
Decent location coverage
Negatives
No free trial and money-back guarantees
Limited features 
Limited locations 
Notify Proxies Alternatives
Below are some companies that offer more features and options at lower prices.
IPRoyal has built a name sign for itself over the years due to its stellar services. It has a diverse range of relatively affordable, ethically-sourced proxies with useful features.
This is a pioneer in the world of proxies. It offers premium proxies for competitive prices, which is why it has become so popular over the years.
SmartProxy has a pretty sizable proxy pool with affordable prices. This provider also offers valuable tools comprising extensions and applications.
FAQ
Notify Proxies is a legitimate company specializing in different kinds of proxies. However, their features are fairly modest compared to some other providers.
Is Notify Proxies affordable?
Unfortunately, this provider is nothing close to affordable. With ISP proxies starting from $47.50, there are way cheaper alternatives.
Is using Notify Proxies illegal?
Using services from Notify Proxies is legal. However, you will be banned if you use their proxy servers for illegal tasks that go against the TOS.