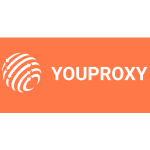 Finding a reliable proxy service provider can become complicated for several reasons. For one thing, the barrier of entry to the proxy market is shallow. This has led to an influx of companies claiming to offer premium proxy services.
With these many providers comes a series of pros and cons. You get access to many companies to choose from. Some people will have no problem selecting the company to meet their needs. But, others will be unable to navigate the different providers and find a perfect proxy service for their specific usage scenario.
A typical proxy provider will claim to offer stellar services and be the best in the market. If all providers claim this, then surely, some of them aren't 100% sincere.
With this in mind, is YouProxy one of those companies that make false promises? Or is their service genuinely good? This review will take a closer look at this provider and its services. In the end, it should be easier for you to decide whether you should give this provider a chance.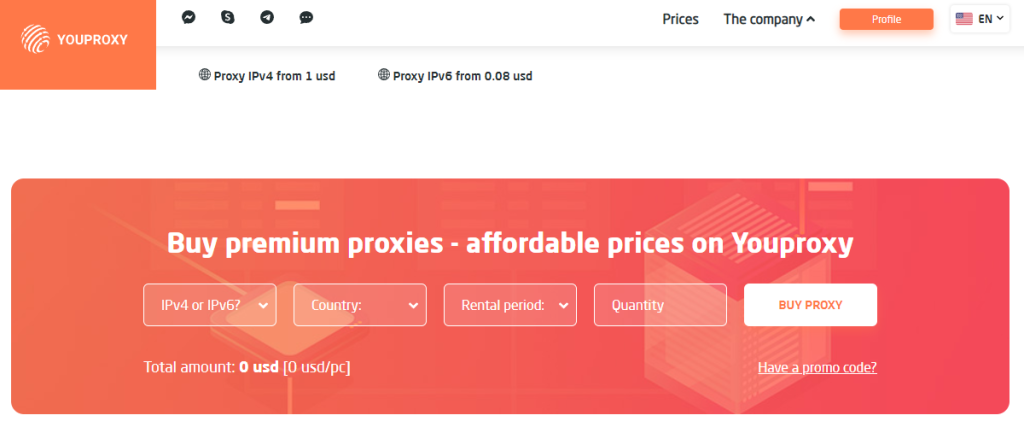 YouProxy Introduction
YouProxy is one of the popular proxy service providers in the market today. The company has an intuitive and user-friendly website from which you can view the different services. However, for a popular proxy service provider, YouProxy has limited information on the web, which might raise some eyebrows.
In fact, the only reliable source of information you can use to get a better insight into the company is the main website. With this in mind, we took it upon ourselves to scour this site and see the different features this company has to offer.
The goal is to determine whether YouProxy is a genuinely good provider or it just makes false promises on its website. We tested the proxies and weighed them according to a predefined set of criteria, as you will see below.
YouProxy Features
At face value, YouProxy offers some of the most unique and competitive features on the market. The first and arguably most important of these is the location diversity. This provider has coverage in over 25 locations. It might not be the best and most diverse, but it's a start. After all, we have seen providers with only one country supported.
A significant downside you will likely notice while working with this provider is that it is pretty secretive about its network of proxies. As such, it does not mention how it gets its IPs and how it manages its network.
However, there are reports that the IP pool is significantly large and can work for most purposes. Regardless, the exact number is a complete secret, a massive flop since transparency is the first step to attracting customers in the world of proxies.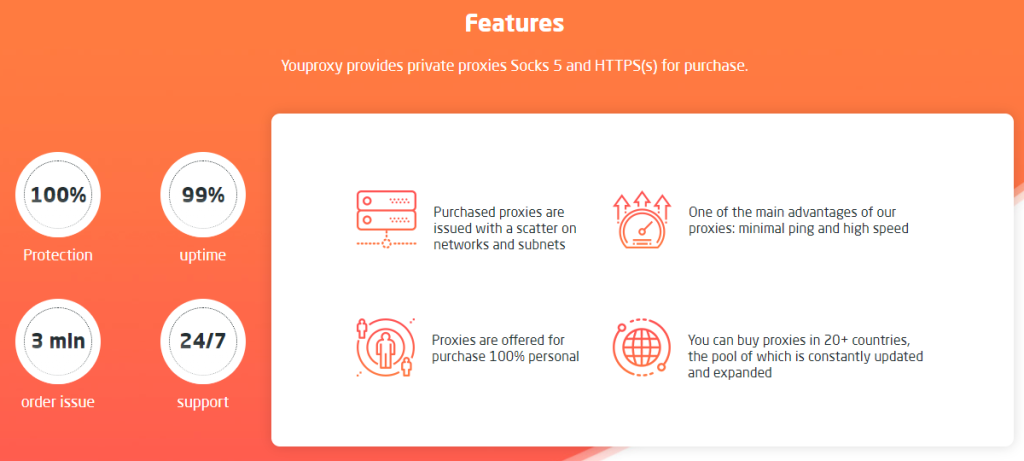 Types of Proxies
YouProxy primarily specializes in datacenter proxies. Depending on your use case, this can either be an advantage or a disadvantage. This is because some users may be looking for residential proxies as they are known to be way more efficient, while others are just fine working with datacenter proxies.
Given the complexity of setting up datacenter proxies and the high costs involved, YouProxy has done a decent job setting up its proxy network. The datacenter proxies are divided into different categories.
You can get proxies from this company based on location as it offers proxies from different regions. Next up, the proxies are also divided based on the use case. They include social media proxies, web scraping proxies, gaming proxies, sneaker proxies, online marketplace proxies, and proxies for different sites.
In fact, one of the most significant benefits of this provider is that it offers a diverse range of proxies optimized to work on different sites. Other than that, these proxies support the major protocols, including SOCKS5, which is another plus.
However, this diversity raises significant questions. From our analysis, the chances are that these proxies are not optimized to work on any site. This is because when selecting proxies from any category, you will be redirected to the same page. Therefore, there is a chance that these are all the same proxies.
Finally, the proxies support dual authentication, that is, username/password and IP authentication. This is another significant benefit as users can authenticate the proxies using the best method.

YouProxy Proxy Speed and Performance
Regarding speed and performance, you would expect a typical proxy to slow down your internet connection. This is entirely normal, as when you use such devices, your internet traffic makes a pit stop at the proxy server from where the IP address is changed. How much the speed is reduced determines how effective the proxy is.
You should not expect anything record-breaking from YouProxy. The proxy speeds are average, to say the least. The company also claims to offer 99% uptime, which is pretty impressive as the proxies are less likely to become unresponsive.
Additional Tools
Proxy service companies normally offer additional tools like proxy checkers and APIs as complementary services to customers. Unfortunately, they are lacking from YouProxy. We scoured the site, hoping to find one of these tools, but we could not find any. We contacted the support team, which confirmed that the website does not have these features.
Purchase Simplicity
The YouProxy website is simple and intuitive to use. It has a modern look, which means the designers put in some work to ensure it matches market standards. You will notice that the website is quite informative, something most proxy service providers miss out on.
Purchasing a proxy is also not at all that complicated. You need only follow a series of steps, and you will buy the proxy of choice from the company. On the main web page is a series of countries with the proxies available from which you can make an order.
You should note, however, that you must sign up for the service to get access. The signup process is also straightforward as you only have three fields to fill: login, email, and password.

YouProxy Pricing
The YouProxy pricing structure is a bit on the higher side and might not work for most users. It is also too diverse and might confuse some users.
For starters, the website prices its proxies based on the location, which you will find is the most used pricing structure. Here, proxies from different countries have different price tags. For instance, a proxy from the USA is priced at $1 per IP, which is pretty expensive.
The other pricing plan is based on the number of threads. Here, you can get 10 threads for $10, which is also quite expensive. This figure can quickly jump to thousands of dollars for users that need bulk orders.
On the flip side, YouProxy offers refunds for its services. If you make the refund request within 24 hours, you will get your money back. This is not at all that great as there are providers that make the refund for as long as 30 days from the day of purchase. Finally, there are no free trials from this provider.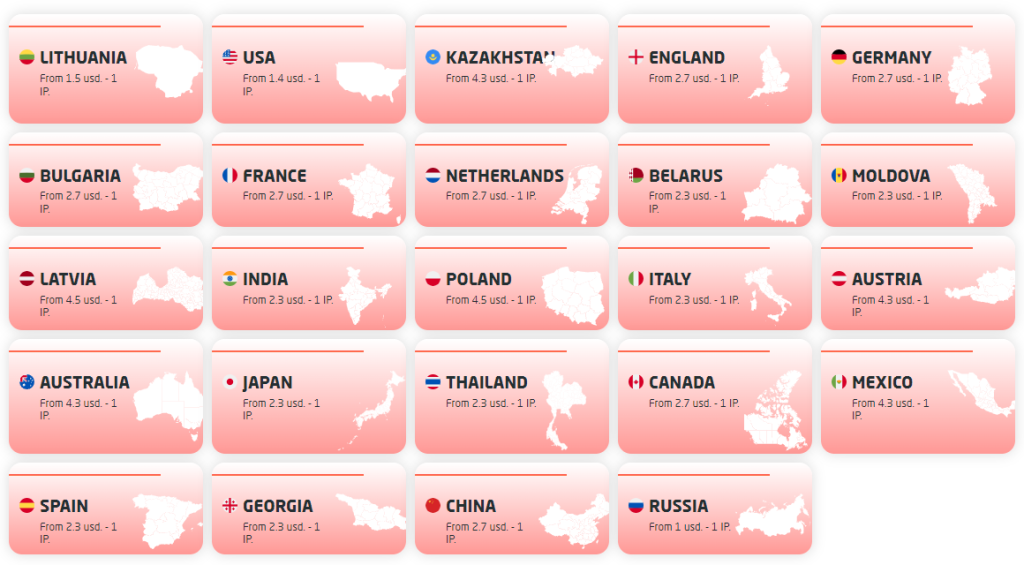 YouProxy Discounts
YouProxy has some of the most comprehensive discounts on the market today. You should note that most proxy service providers tend to shy away from deals and refunds. YouProxy has a dedicated discount page from which you can get different promo codes and use them when purchasing from the company.
For instance, you can get a 10% discount promo code when purchasing proxies from China and Georgia. Also, if you spend more than $300, you get a 20% discount. There are other discounts on the page, so be sure to check them out whenever you want to make a purchase.

Is YouProxy Legit or a Scam
From our analysis, it was apparent that this provider is legitimate and has a focus on attracting and retaining customers. However, one significant downside is minimal information available on the web. As such, customer reviews are non-existent. Nevertheless, we tested the service, and it came out to be legitimate with proven features.
Customer Support
The customer support system at YouProxy is pretty decent. For one thing, a live chat feature with a chatbot prompts the user with questions once they log on to the website. However, whenever you ask a question, the system will respond by asking a series of questions about your contacts.
We refrained from answering the contact questions, after which a customer support agent contacted us immediately. The agent was responsive and friendly, which adds to the website's credibility. You can also contact the customer support team via Telegram, Skype, Facebook, or email.

Can You Earn Money With YouProxy?
You can earn money with YouProxy, but the affiliate program is quite odd by market standards. Upon checking the website, there is no mention of this feature, not even a dedicated page.
We followed up with the support team, who informed us that the affiliate program is there but only available to customers. In fact, you have to buy a minimum of one proxy to gain access. This is odd since most providers allow all users to join the affiliate program.
YouProxy Pros and Cons
Now that we have exhausted all the features this provider offers, you might still be at a crossroads in deciding whether you should work with YouProxy. Below is a list of pros and cons designed to give you a clearer idea of what the company has to offer.
Positive
Good customer support
SOCKS5 Support
Dual authentication
Flexible payment methods
Negatives
No free trial 
Modest location support
Pros
Outlined below are some of the key YouProxy advantages.
The website has a live chat feature, and the agents are fast and polite.
YouProxy offers SOCKS5 support, which adds to the functionality of its proxies.
You get both username/password and IP authentication with this provider.
YouProxy has several payment methods you can choose from.
Cons
Unfortunately, you have to pay to get access to the proxies. YouProxy does have a 24-hour money-back guarantee.
The location support is not that impressive, but it is not the worst we've seen.
Final Verdict
With all that said, one question still has not been sufficiently answered: do we recommend YouProxy? Yes, but for low-level complexity tasks. Due to the mystical nature of this provider, it would be best if you could try it out before making a purchase.
However, there are no free trials here. Hence, you can just start with a minimal purchase such as one proxy before deciding whether the proxies can work for you. Regardless, the customer support system is quite efficient, and the agents are always available to answer your questions.
Ratings
YouProxy Alternatives
Below is a list of companies that offer matching or even better services than YouProxy. You can opt for these companies if YouProxy fails to meet your needs.
MarsProxies is a provider focusing on one market segment: sneaker copping. It offers state-of-the-art private sneaker proxies designed to work seamlessly with all available sneaker bots.
This is one of the most renowned proxy service providers. It offers competitive prices for a wide array of proxies and comprehensive web scraping tools.
SmartProxy is another provider with an impressive portfolio. It offers a large IP pool, affordable prices, and quite a few additional tools.
FAQ
What kind of proxies does YouProxy offer?
YouProxy exclusively offers private datacenter proxies. These are divided according to the use case with different pricing plans.
Does YouProxy have a money-back guarantee?
Yes, the provider has a 24-hour money-back guarantee. You can get a refund 24 hours from the time of purchase.
For the most part, yes. This proxy service provider has average speeds and an above-average customer support system.