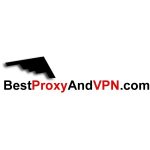 Are you in the market looking for a reliable proxy? You might have noticed that there has been an influx of proxy providers in recent years. A simple Google search will reveal several companies claiming to offer state-of-the-art proxy services.
How do you make the right choice, though? First off, you determine what your needs are. What are you looking to accomplish using the proxy? Next up, you check the companies that can meet these needs. Once you come up with a definitive list, it is time to check for reviews.
With this in mind, this review will cover all you need to know about BestProxyAndVPN. We will analyze its features and talk about what it has to offer users. Finally, the review will outline its pros and cons to help you decide whether you can work with this company.

BestProxyAndVPN Introduction
As you can infer from the name, BestProxyAndVPN is a company that specializes in proxy and VPN services. The provider is known to offer premium services to users ranging from SOCKS5 protocol proxies to private proxies. Coupled with its VPN service, BuyProxyAndVPN seems like a legitimate company focusing on meeting customer demands.
You should note that for the purposes of this review, we will only focus on the proxy aspect of this provider. We shall not analyze the VPN here since it is beyond the scope of the review. Instead, we will look at the proxy server features and determine whether they are worth your time.
BestProxyAndVPN Features
BestProxyAndVPN is quite diverse when it comes to location and features. Although it is not in the range of the current market leaders, it is still pretty impressive. One of the biggest appeals of this provider is that it offers city-level precision.
While most companies only offer city-level targeting in the US, BuyProxiesAndVPN covers over 80 cities worldwide. Furthermore, this provider allows you to select any specific location from its list, unlike many companies that randomly assign locations. You can also choose a customized set of locations during the monthly refresh.
BestProxyAndVPN does not disclose how many IPs it has in its pool. Instead, it shows how many IPs are in a specific region, which is pretty brilliant. This way, you have an idea of the coverage in a specific area and stand a better chance of making an informed decision when selecting a location.

Types of Proxies
BestProxyAndVPN mainly specializes in datacenter proxies. Specifically, it only offers private proxies and has no support for shared proxies. The datacenter proxies are then divided into categories based on their integral features.
Accordingly, you can purchase four different types of proxy servers from this provider: IPV4, IPV6, and SOCKS proxies. Keep in mind that each has different features and location coverage.
What's more, BestProxyAndVPN supports dual authentication methods. You can authenticate using either your username/password or your IP address. This adds to the convenience of the service as you are free to use the method that best suits your needs.
You can refresh your proxies at the end of each month without additional costs. During refreshing, you can also change the location from the provided list. Finally, if you encounter problems with the proxies, you can change them from the control panel.
BestProxyAndVPN Proxy Speed and Performance
The only way to truly measure the performance of a proxy server is to check its speed and ping stats. Ping refers to the time taken for a data packet to travel from host to destination. A lower ping means lower latencies.
The ping results were not impressive, with an average of about 115 ms, indicating you might experience lag while using this proxy provider. They were also largely dependent on the location, where some cities had higher ping than others.
The speed test results were not at all impressive either, with an average of about 10 Mbps. Many providers can beat this speed. Hence, we can surmise that there's quite a bit of room for improvement.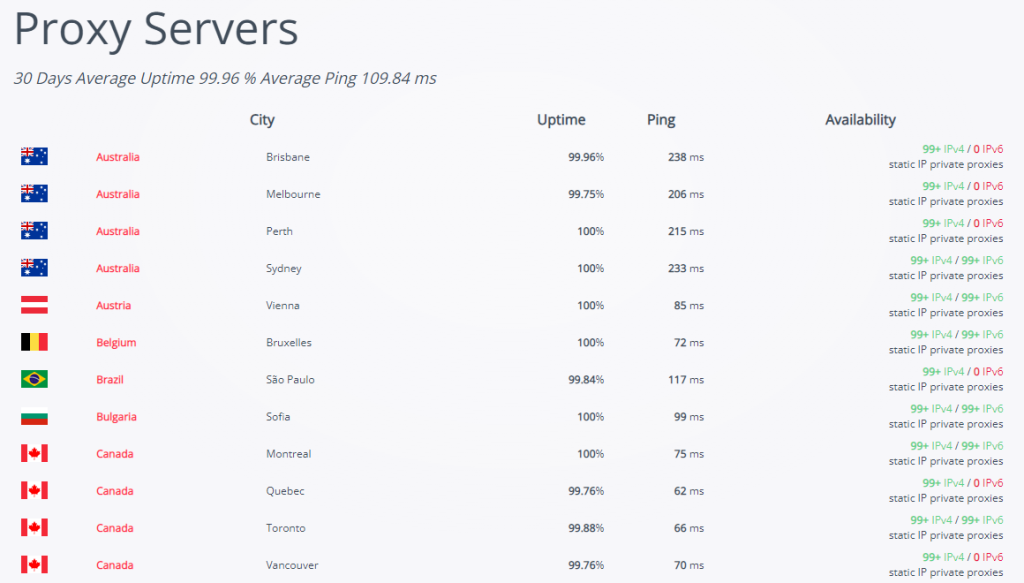 Additional Tools
While the BestProxyAndVPN website is quite comprehensive and offers many features, one significant downside is that it does not offer any additional tools to complement the proxy service. We tried perusing the site in hopes of finding a mention of an API, scraper, or proxy checker with no success. This is a significant downside as such tools are known to improve user experience.
Purchase Simplicity
Truth be told, the BestProxyAndVPN website is not the best in the market. One might go as far as to argue that it feels clunky and distracting. It lacks that modern feel and simplicity we've seen with other providers.
Despite the flawed website design, purchasing a proxy is not difficult as you can make your order right from the home page via the 'Buy Now' button. From there, you will be redirected to the verification page where you can complete the purchase.
One significant downside is that BestProxyAndVPN lacks diversity in terms of payment methods. It only supports Paypal and subjects unverified accounts to a 24-hour fraud payment check.
BestProxyAndVPN Pricing
As mentioned earlier, BestProxyAndVPN only has three proxy plans: IPV4, IPV6, and SOCKS. Each of these has several different subscription plans. BestProxyAndVPN uses a price per proxy plan where you are charged depending on the type of proxies you aim to purchase.
Under IPV4 proxies, you get six different subscription plans that vary depending on the number of proxies. One proxy goes for $6.99, while six proxies go for $28.99 per month and 48 for $ $199.99 per month.
The IPV6 proxy plan has three subscription options: one, five, and ten proxies. One proxy goes for $2.99 per month, five go for $13.99 per month, and ten go for $26.99 per month.
Similarly, the SOCKS proxies have three plans ranging from one to six proxies. One proxy goes for $6.99 per month, three proxies go for $14.99 per month, and six proxies go for $28.99 per month.
If you purchase the proxies and feel the service does not meet your standards, the website offers a 3-day money-back guarantee, which is average, given some websites offer up to 30-day money-back guarantees. There are no free trials from this provider.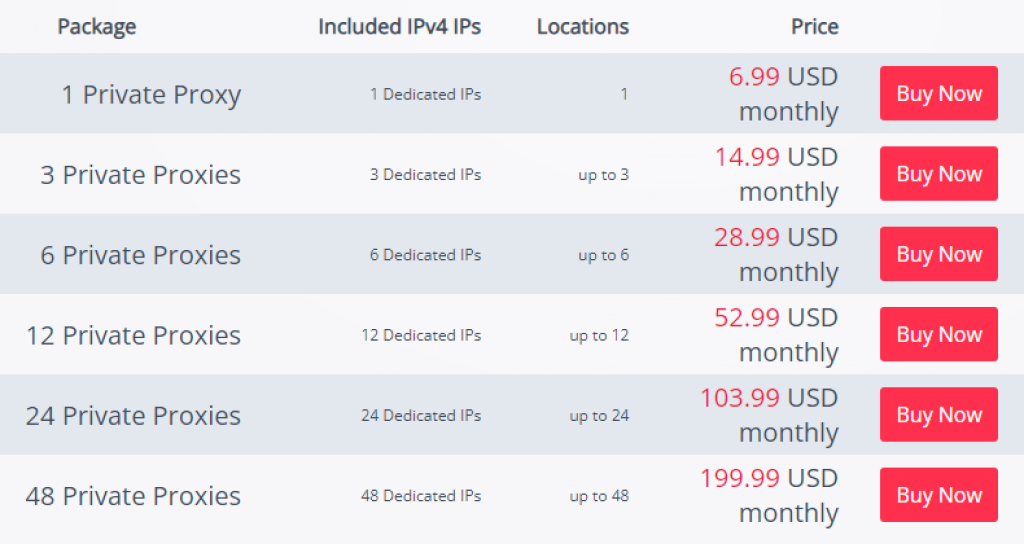 BestProxyAndVPN Discounts
BestProxyAndVPN does not necessarily mention that it offers discounts for its services. However, if you check the prices for the different plans available, you will notice that the more proxies you buy, the less you'll pay per proxy.
Despite the discounts, the prices are on the expensive side of the spectrum, much higher than some other offers we've seen.
Is BestProxyAndVPN Legit or a Scam
BestProxyAndVPN is a legitimate company, but this does not mean that customers are impressed with its services. In fact, BestProxyAndVPN has mostly negative reviews despite looking quite promising on the website.
Most users complain that the proxies are shared despite the website advertising them as private. Others say that most of the IPs are blocked and do not work. This provider has a Trustpilot rating of 2.8 stars, which shows that customers are generally dissatisfied with the service.
Therefore, BestProxyAndVPN still has a long way to go if it is to repair its reputation and compete favorably with its peers. The company should advertise what it offers, even if this might drive away potential customers.
Customer Support
This is another area where this provider falls behind its competitors. The customer support system at BestProxyAndVPN is not great. First, you might have trouble locating the contact button on the main page. This is because it is located under the 'Help' tab, and it is at the bottom.
BestProxyAndVPN has only one way of reaching out to the customer support team: tickets. This is a massive flop since most websites provide users with multiple options: emails, phone numbers, live chat, and finally, tickets.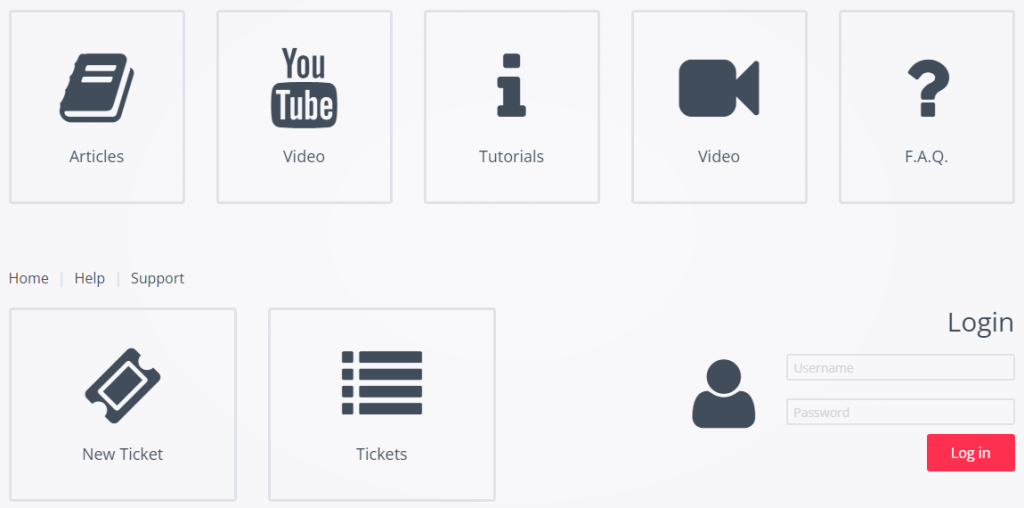 Can You Earn Money With BestProxyAndVPN?
From what we could gather, users cannot earn money with this provider as there is no mention of an affiliate program on the site. We would expect a dedicated page for affiliates and resellers, but we didn't find one. Therefore, you cannot earn money with BestProxyAndVPN.
BestProxyAndVPN Pros and Cons
By now, you should have a rough idea of some of the features BestProxyAndVPN offers. Below is a list of pros and cons to help you in making a more informed decision on whether you should work with this provider.
Positive
Dual authentication 
SOCKS5 proxies
Instant proxy delivery
Negatives
Negative reputation
Poor customer support
No free trial 
Below-average speed
Questionable proxies 
Pros
Below are some of the factors that make BestProxyAndVPN a service worth considering.
BestProxyAndVPN offers both username/password and IP authentication.
The provider has SOCKS proxies as a separate package.
Once you pay, the proxies are delivered immediately, adding to the convenience of the service.
Cons
Below are some of the factors that might make you inclined to look for alternatives to this provider.
BestProxyAndVPN has a rather negative reputation on the web, with most customers complaining of poor service.
The customer support system from BestProxyAndVPN is poor, with only a ticketing system available.
Unfortunately, this provider does not offer a free trial, although it has a money-back guarantee.
The proxy speed is nothing exceptional at a mere 10 Mbps on average.
Many proxies from this company are banned or flagged, so they might not work for you.
Final Verdict
At face value, BestProxyAndVPN seems like a decent proxy service. It has all the good features like SOCKS5 support and dual verification, so trying it out doesn't sound like a bad idea. Besides, if the service does not match your standards, you can take advantage of the 3-day money-back guarantee.
However, customer reviews seem to allude that this provider has failed in its duty of meeting customer expectations. For one thing, most of the proxies are banned, and the speeds are poor. The customer support system is not any better, with ticketing being the only way to reach the support team.
Finally, BestProxyAndVPN has pretty high prices, and the service quality doesn't seem to be on par with them.
Ratings
Positive
Dual authentication 
SOCKS5 proxies
Instant proxy delivery
Negatives
Negative reputation
Poor customer support
No free trial 
BestProxyAndVPN Alternatives
Below are some companies with far much better reputations you could go with in place of BestProxyAndVPN:
IPRoyal has a far much better reputation than BestProxyAndVPN. It has a wide array of features and proxies at affordable prices, making it a safer alternative.
This company has an impeccable reputation and has been in the business for a long time. While it might be expensive, it has a vast proxy pool and far better features.
With an impressive reputation, ProxyRack has been considered a top-tier proxy service company for a long time. It has a vast pool of proxy types you can choose from.
FAQ
Is BestProxyAndVPN legit?
Yes, BestProxyAndVPN is a legitimate company. However, customer reviews allude that it does not meet customer expectations.
What type of proxies does BestProxyAndVPN offer?
BestProxyAndVPN offers private datacenter proxies. They come in three types: IPV4, IPV6, AND SOCKS proxies.
Does BestProxyAndVPN have a money-back guarantee?
Yes, BestProxyAndVPN has a 3-day money-back guarantee. If you ask for your money within three days of purchase, you will get a refund.