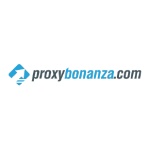 With an increasing demand for proxies, companies are coming up to get a share of the market. This is both a good and a bad thing due to several factors. First, it means you get variety when selecting a proxy service provider. However, it also means you may have difficulty selecting the best provider to meet your needs.
The best way to scope out the different providers is to take time and analyze their benefits and features. Luckily, we have taken this step out of the way and analyzed the features for you. Accordingly, this review will talk about ProxyBonanza, a well-known proxy provider in the market today.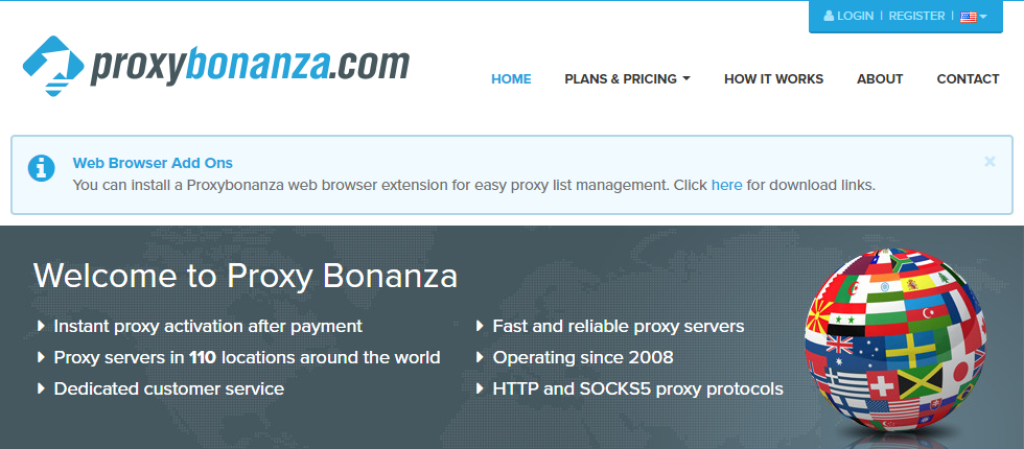 ProxyBonanza Introduction
ProxyBonanza is one of those companies that began when the proxy hype started. The company has been around since 2008 and has managed to garner a considerable customer base during this time.
Over time, this website has expanded its coverage to over 111 locations worldwide, which is quite impressive by current standards. Proxies are activated immediately after purchase which is another big plus since it adds to customer convenience.
While it's not the best in the business, the website is pretty intuitive and easy to follow. It seems pretty modernistic, and it's easy to find what you're looking for. All in all, at face value, ProxyBonanza seems like a good and legitimate proxy provider.
We've only scratched the surface, though. The intricate details will reveal whether the website lives up to its name.

ProxyBonanza Features
First, you should note that ProxyBonanza has taken a different but rather brilliant approach when disclosing information regarding its IP pool to customers. While other providers tell you from the start that they have a certain number of IPs in their pool, ProxyBonanza does not do this. Instead, the company shows all the locations and the number of IPs under each.
Note that in the USA, the locations are more precise with city-level details, while in other regions, it's the number of proxies per country. This is a good strategy as you can see the number of proxy servers in each location and decide whether the provider can meet your needs.
Furthermore, you should note that ProxyBonanza has most of its data centers in the USA, which explains why most of the covered locations are in this region. In summary, this provider has competitive features and ranks well in its class.
Types of Proxies
As mentioned earlier, this provider mainly specializes in datacenter proxies. What's more, ProxyBonanza has data centers spread out in different parts of the globe. These proxies are divided into four different categories.
The first is called 'Shared Proxy' and is shared between multiple users, although ProxyBonanza does not specify how many. The next category is called 'Exclusive Proxy,' a fancy name for dedicated proxies. Here, you are the sole user of the proxy server, translating to better efficiency.
Keep in mind that both shared and dedicated proxies use random locations from the USA. The last category is called 'International Proxies' and offers shared proxies from different regions worldwide. Here, you can choose from 111 different locations supported by ProxyBonanza.
All the proxy plans from ProxyBonanza support IP and username/password authentication. This is a significant plus for users as they can choose the authentication method that suits them.
Finally, ProxyBonanza offers SOCKS5 protocol support for users, which is another advantage. In brief, the types of proxies from this provider are pretty diverse.
ProxyBonanza Proxy Speed and Performance
Given that these are datacenter proxies, they are naturally expected to be relatively fast. ProxyBonanza claims that the proxies can reach speeds of up to 1,000 Mbps, which is beyond impressive. However, you should note that the website has some limitations. For instance, you cannot use proxies for illegal activities or spam.
Additional Tools
ProxyBonanza offers browser extensions to help in proxy management. These plugins are available for Chrome, Edge, and Opera browsers. They are not sold as separate packages as you would expect a typical provider to do.
Instead, they are free and can be downloaded right from the website. This way, you do not have to manually enter the proxy details, which takes time and can become inconvenient. You can just use the plugins to make your work easier.

Purchase Simplicity
The ProxyBonanza website has a modern feel and is relatively easy to use. Everything is laid out in a straightforward manner. However, some users might argue that the website is plain, which to some extent, is true.
This does not imply that making a purchase is complicated. The chances are high that you will not need help from the support team or anyone else when purchasing a proxy. The 'Plans and Pricing' button is right at the top of the page.
Once you select it, you'll get to a page with all the different purchasing plans and their prices.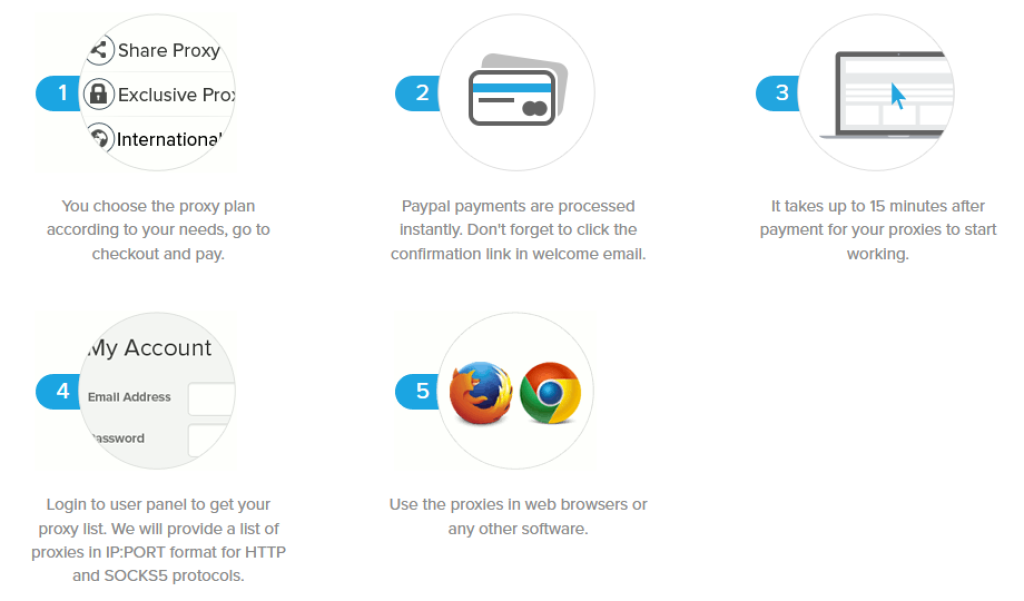 ProxyBonanza Pricing
As mentioned earlier, ProxyBonanza has three different pricing plans: shared proxies, exclusive proxies, and international proxies. Each plan is priced differently, but the pricing structure is more or less the same.
For instance, under shared proxies, the cheapest plan is 25 IPs, one subnet, and 10 GB worth of data that costs $10 a month. You can increase the number of IPs, automatically increasing the number of subnets and the data transfer limit. The most expensive plan here is 10,000 IPs with 154 subnets and 2,800 GB of data going for $1,745 per month.
Under exclusive proxies, you can get one IP with unlimited bandwidth for $10 a month. The most expensive plan is 40 IPs at $142 per month. You also get unlimited subnets here. Under international proxies, you have to specify the country and the number of IPs for the system to generate pricing for you.
You might be surprised that ProxyBonanza offers a 100% 30-day money-back guarantee. This is not something you see with an average proxy service provider. However, the money-back guarantee does have its conditions.
For instance, you can only get a full refund if the bandwidth usage is less than 1 GB or 10% of the allocated bandwidth. If this is not the case, the provider will issue a refund according to the consumed bandwidth.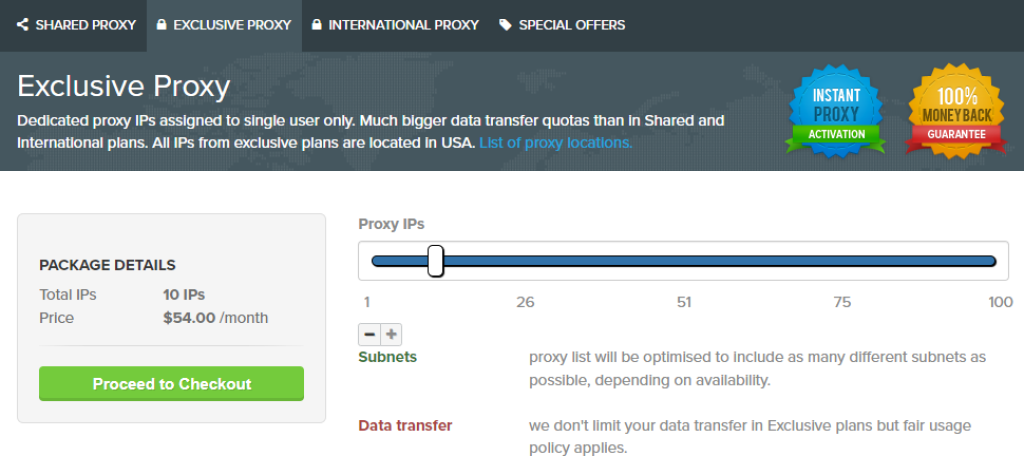 ProxyBonanza Discounts
ProxyBonanza has a full-time special offers page that can be found under the 'Plans and Pricing' page. Here you can get different 'Special' plans that rotate in an unknown method.
You can take advantage of the special offers and get a discount on your proxy servers. Keep in mind that the special offers might change from time to time.

Is ProxyBonanza Legit or a Scam
ProxyBonanza is a legitimate company with a proven record of striving to meet customer needs. You do not have to worry about the proxies not meeting your needs, as you can get a refund. Furthermore, the refund policy here is much better than other companies since it is valid for 30 days.
Customer reviews are also positive, with most clients indicating they are generally satisfied with the service despite the high prices.
Customer Support
The customer support team at ProxyBonanza is average, to say the least. First off, there is no live chat feature where users can easily access the customer support team as with other premium proxy service providers.
ProxyBonanza has two options you can use to contact the customer support team. The website has a helpdesk for existing users, and non-users can use the email option provided on the 'Contact' page.
Can You Earn Money With ProxyBonanza?
ProxyBonanza has an affiliate program for users interested in making money with the platform. Although the company does little to advertise this program, it is pretty lucrative given the benefits it offers users.
Once you sign up for the program, you are provided with links and banners to refer people to the platform. The website offers a 30% base commission with 30 days of cookie tracking and monthly payouts via PayPal.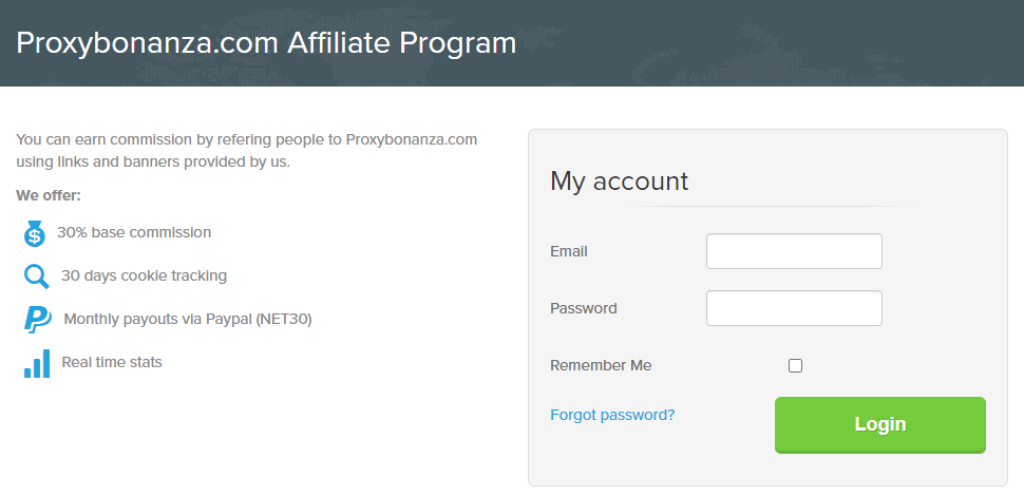 ProxyBonanza Pros and Cons
By now, you should have an idea of some of the features ProxyBonanza has to offer. But, one of the best ways to make an informed decision is using a brief pros and cons list.
Positive
SOCKS5 support
Dual authentication 
International coverage 
Shared and dedicated proxies 
Negatives
No free trial 
It can get quite expensive 
Pros
Below are some of the advantages of working with ProxyBonanza.
ProxyBonanza has SOCKS5 protocol support, an excellent plus for users looking for versatile proxies.
ProxyBonanza offers both username/password authentication and IP authentication, meaning users can use the method of convenience.
With ProxyBonanza, you can choose from 111 locations. Keep in mind that this is only true with international proxies.
Shared and dedicated proxies
ProxyBonanza offers both shared and dedicated datacenter proxies for users.
Cons
While this company has its upsides, it does have its downsides as well. They are listed below.
Unfortunately, there is no free trial. You only get a money-back guarantee.
It can get quite expensive
The bigger plans can get quite expensive for the average user, and some may be inclined to look for cheaper alternatives.
Final Verdict
ProxyBonanza is a legitimate company that focuses on providing top-tier proxy services to its customers. With a 30-day money-back guarantee, suffice to say, this company has the customer's needs at hand.
Therefore, we recommend this provider for medium-level anonymity activities. This is because it only offers datacenter proxies, which are not the most reliable for anonymity. That title goes to residential proxies.
Nevertheless, ProxyBonanza is still a good option for users. With 111 locations to choose from, users are at liberty to pick datacenter proxies that meet their needs.
Ratings
ProxyBonanza Alternatives
Customer needs vary. For some people, ProxyBonanza might work just fine, and for others, they might be inclined to look for alternatives. Therefore, below is a definitive list of all top ProxyBonanza alternatives:
MarsProxies is designed for sneakerheads. It has sneaker proxies with 99% uptime and over 100 million IPs in its pool.
Much like ProxyBonanza, this provider is focused on datacenter proxies. It offers virtual dedicated (semi-dedicated) and dedicated proxies.
The Social Proxy provides mobile 4G proxies. Its services are streamlined toward social media usage.
FAQ
What kind of proxies does ProxyBonanza offer?
ProxyBonanza offers datacenter proxies. These are divided into shared, exclusive, and international proxies with different features.
Does ProxyBonanza offer a money-back guarantee?
ProxyBonanza offers a 30-day money-back guarantee. However, you must have used less than 1 GB or 10% of your bandwidth to get a full refund.
Does ProxyBonanza offer a free trial?
Unfortunately, this company does not have a free trial. You must pay before getting access to its services.