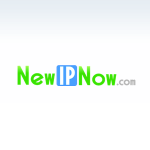 NewIPNow is a premium proxy provider that has been around for over a decade. It offers private datacenter proxies at very affordable prices. Its good customer support and low prices make it an attractive option for proxy users worldwide, especially those new to the proxy world.
But, like any other proxy provider, NewIPNow has some drawbacks that you need to know before subscribing. We're reviewing it here so you can learn everything about it and figure out if it has what you need.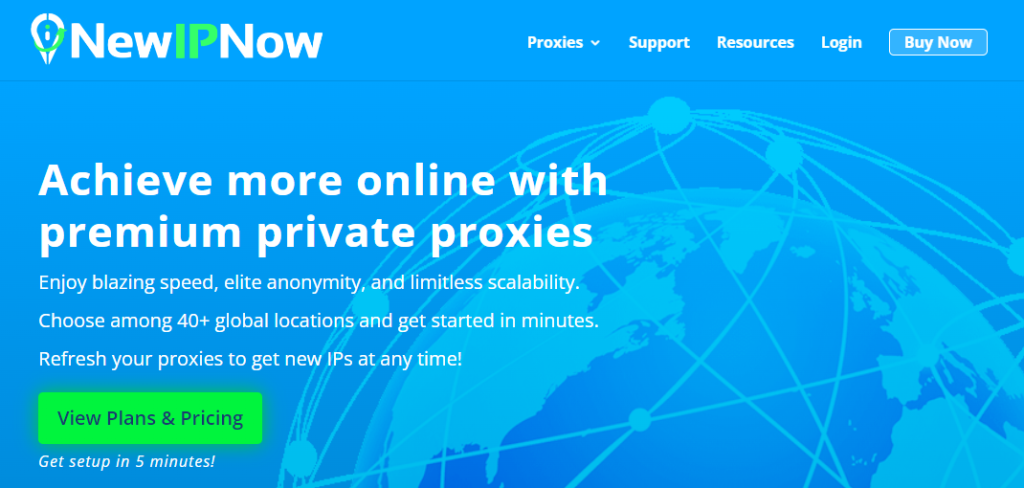 NewIPNow Introduction
Although it's not among the top players in the proxy world, NewIPNow has thousands of loyal customers worldwide, thanks to its low prices. The company claims its private proxies work with almost all sites and applications. But if you find out they are incompatible with the sites or services you intend to use them on, you can get your money back within seven days of purchase.
You can use NewIPNow proxies for social media automation, scraping, ticketing, sneaker copping, and casual browsing. However, keep in mind that the company offers HTTP(S) proxies only, so you won't find any SOCKS proxies here.
Let's find out more about this provider and all that it offers and lacks.
NewIPNow Features
In this section, we will discuss the basic features of NewIPNow – its proxy pool size, location coverage, and source of proxies.
The proxy network pool of this company consists of over 399,000 IPs which is a decent number of datacenter proxies that will keep you anonymous online. Unlike most of its competitors, NewIPNow shows the number of unique IPs on its homepage, which is 5,000.
The company has over 1,600 server locations around the world, providing IPs from over 40 locations worldwide, not all of which are shown on the site. Its proxies cover multiple continents including the US., Europe, Asia, Canada, Africa, and Australia, which is pretty impressive for a datacenter proxy provider.
The European IPs come from five locations which, although a bit limiting, is considerably better than most competitors that offer datacenter proxies only from one location. They include Switzerland, Sweden, Germany, Romania, and the United Kingdom.
In terms of the US locations, it has proxies from New York, Texas, Kirkland, and Los Angeles. Its Asian locations include Japan and India. There is no information about the specific IP locations from Africa, Australia, and Canada, which can be considered a flop.
Overall, NewIPNow has excellent location coverage compared to other datacenter proxy providers. The only drawback here is that you can't see the exact locations of all NewIPNow proxies, which is bad if you need IPs from a specific country.
All of NewIPNow proxies are datacenter proxies, so they come from data centers located around the world. What's important here is that they are ethically-sourced proxies, so you can rest assured you're using safe and reliable IPs.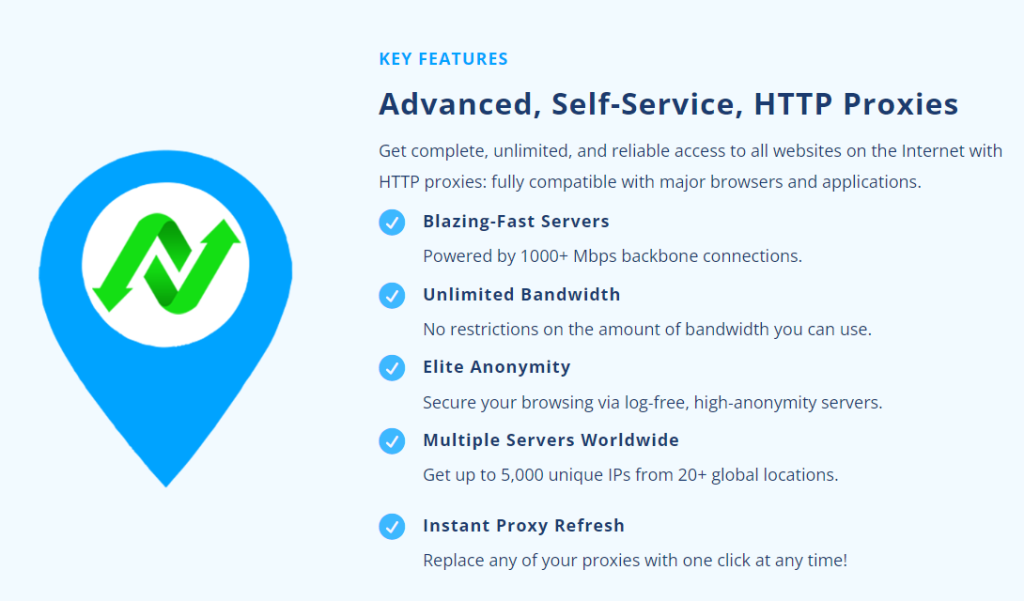 Types of Proxies
The main product of NewIPNow is private datacenter proxies. They are dedicated to one user only, so you won't be sharing them with anyone else. This makes them more reliable and safe than shared proxies, as you won't be suffering the consequences of another user's misbehavior.
On the other hand, they are less secure and anonymous than residential proxies because they don't come from real users and real ISPs. But, as far as datacenter proxies are concerned, they provide a good level of security and reliability, being dedicated to one user at a time. Besides, datacenter proxies are considered faster than residential proxies, so they come in handy for tasks requiring fast speeds.
The provider also sells proxies for specialized cases, including social media proxies, anonymous browsing, web scraping proxies, and TicketMaster and sneaker proxies. All proxies are Elite proxies meaning they are highly anonymous.
In terms of protocols, NewIPNow proxies support only HTTP and HTTPS connections. Although HTTP(S) proxies connect with almost every tool, they are not as secure and flexible as SOCKS proxies. So, the lack of SOCKS proxies is definitely a drawback as you may not be able to use some types of browsers.
All NewIPNow proxies are static proxies which make them ideal for activities that require maintaining the same IP for a longer time. Although the provider doesn't offer rotating proxies, it allows one IP rotation per month. You can get a new set of proxies by clicking the "Instant Proxy Refresh" button, and they will be delivered instantly.
When it comes to proxy authorization, NewIPNow supports only IP authentication. But, many proxy users prefer username/password authentication because it's faster than IP authentication, so this is something NewIPNow can work on in the future. Some providers offer both authentication methods, which is ideal as it makes the proxies more mobile and easier to access from anywhere.
The number of proxy cities and subnets available depends on the package you order. In general, the higher the package, the higher the number of available subnets and cities.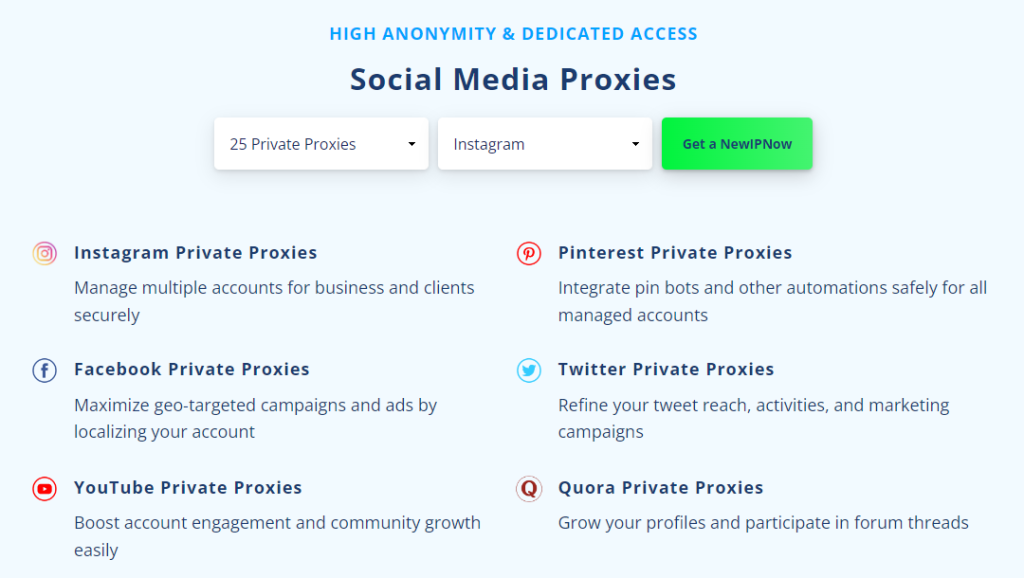 NewIPNow Proxy Speed and Performance
Companies can have impressive location coverage and massive proxy pools, but nothing will really matter if their proxies are slow. Everyone wants fast proxies, and NewIPNow seems to know it because it has ensured its servers are powered by 1,000 Mb/s speed. This is more than enough for most proxy tasks and above the average speed compared to other proxy providers.
On top of that, it provides unlimited bandwidth no matter the plan you choose. So, no worries and restrictions on the amount of bandwidth you use. Also, the provider has 99.9% network uptime, indicating the proxies' high reliability.
Additional Tools
Not all proxy providers offer additional tools to maximize the use of your proxies. But, NewIPNow offers a few that will make your proxy usage easier and more efficient.
These include a proxy checker to test the speed and availability of your proxies, a privacy analyzer that will help you find which data is exposed from your browser, and a monitoring system that shows the proxy uptime and downtime 24/7. Unfortunately, the company has no API, at least for now.

Purchase Simplicity
Buying NewIPNow proxies is very easy, even for beginners. You can easily find the "Plans and Pricing" section on the homepage, which also exists as a separate page on the site. There are four available plans, and you can clearly see what features they offer.
You can also choose the number of proxies and the purpose of use. Once you make your selection, you go to "Order Now" or "Get a NewIPNow" which takes you to another page where you configure your preferred options such as billing cycle, primary purpose, and proxy location.
Then you go to checkout, where you enter your personal and billing information. Of course, you need to have an account to make an order, so you can either create a new one or enter the existing login information to checkout.
Once you get a payment confirmation email, your proxies will be available immediately. You can find them in the proxy control panel.
NewIPNow Pricing
NewIPNow has some of the most affordable prices in the proxy industry. The pricing structure of this provider is based on the number of proxies you order. So no matter which package you choose, you'll get unlimited bandwidth, configurable location, configurable purpose, Elite anonymity, instant setup, HTTP(S) compatibility, instant refresh, and 24/7 support.
The only thing that differentiates NewIPNow packages is the number of proxies, cities, and subnets. So, the more proxies you order, the more subnets and cities available to you.
The lowest NewIPNow plan costs $5 for 5 private proxies a month, which is $1 per private proxy. Any other plan consists of proxies that cost $0.80 each.
For example, 10 private proxies cost $8.80 a month, which means paying only $0.88 per private proxy. The price per proxy doesn't change no matter how many proxies you order and for what purpose. This is unique to NewIPNow because most providers tend to give lower prices for larger orders.
So, whether you order 25, 50, 100, 1,000, or 2,500 NewIPNow proxies, the price you'll pay per proxy will be $0.88 per month, which is pretty affordable.
Another great thing about this provider is that it offers a 7-day refund policy. So if the support team doesn't manage to solve your proxy issue and make them work as intended, you can get your money back within seven days of purchase. This is a great way to build customer trust, so we praise NewIPNow for its great money-back guarantee.
On the other hand, the provider doesn't have a free trial. This means you won't be able to test its proxies for free, so you'll have to buy at least the lowest package to see if they are a good fit for your proxy needs.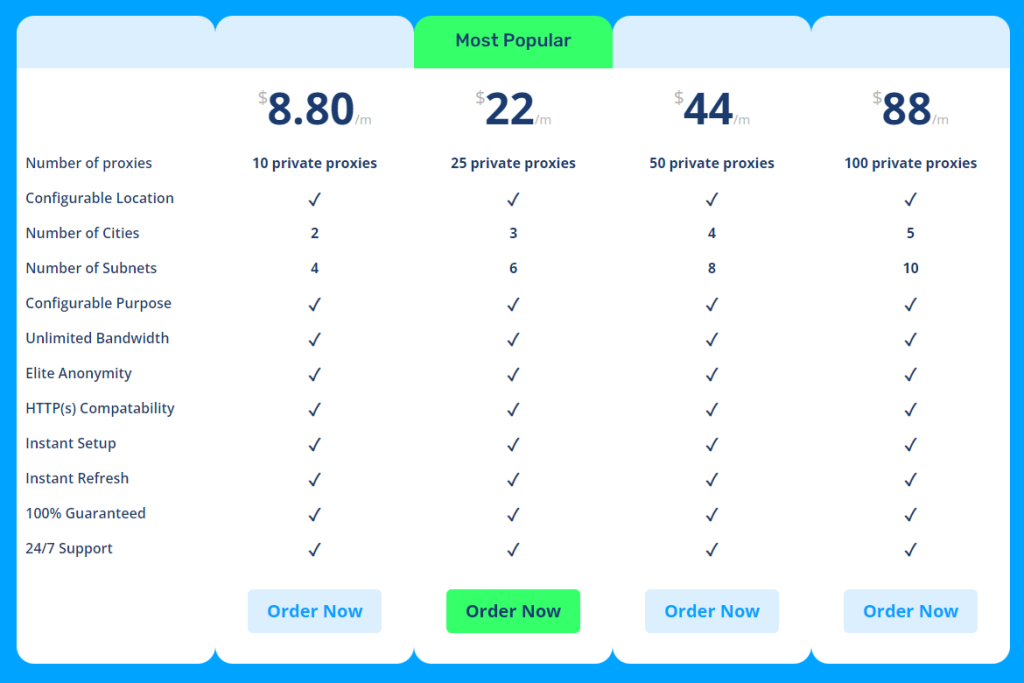 NewIPNow Discounts
The company doesn't have any bulk order discounts or special offers. But, this is reasonable considering the low prices of proxies. You can, however, find promo codes on the internet and use them on the checkout page to buy NewIPNow proxies for even more affordable prices.
Is NewIPNow Legit or a Scam?
NewIPNow has managed to stay a trustworthy proxy provider throughout the years thanks to its good customer support and proxies that work. We couldn't find any customer reviews complaining about the service, so you can be sure NewIPNow is a legitimate company and not a scam.
Customer Support
Customer support is one of NewIPNow's biggest strengths. Here's why. It has live chat support on the site that really works, with agents responding to your questions within a minute or a few seconds. Also, you can open a ticket to which the support team will respond quickly to help you solve your issue ASAP.
The site provides good proxy resources to help you understand and use the proxies easily. There are informative articles that will help you learn the most important things about proxies, tools that will help you manage your proxies effectively, tutorials with step-by-step instructions on how to use the proxies, and an FAQ page with some of the most common questions about NewIPNow service.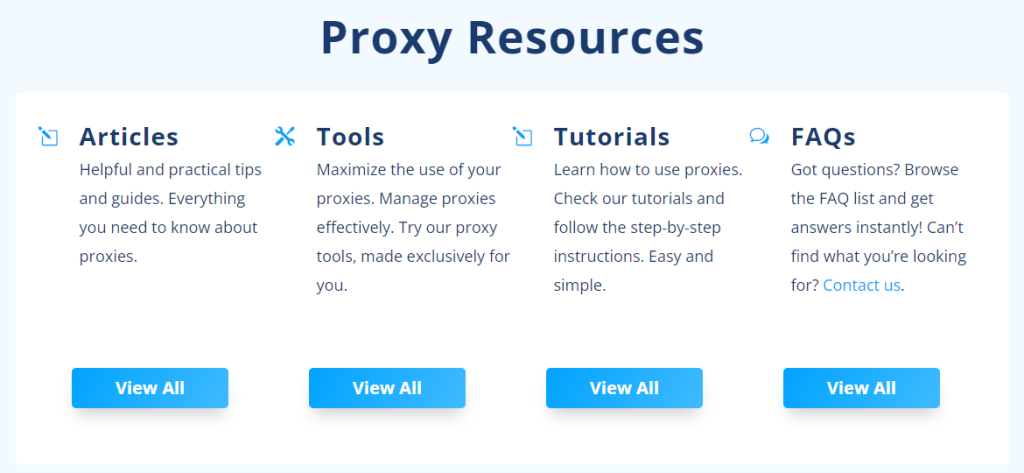 Can You Earn Money With NewIPNow?
NewIPNow gives you not one but two opportunities to earn money with them. The company has an affiliate program that gives you a 20% commission on each referred order. It also has a reseller program that will help you start your online business reselling private proxies.
NewIPNow Pros and Cons
It's time to compare and contrast NewIPNow's major strengths and weaknesses, so you can make an easier and better buying decision.
Positive
Private, dedicated proxies
Proxies for specialized cases
Decent proxy pool size
Great location coverage
Ethically-sourced proxies
HTTP(S) support
IP authentication support
Fast proxies
Unlimited bandwidth
99.9% uptime
Instant Proxy Refresh
Static proxies
Additional tools
Easy to purchase
Instant setup
Cheap prices
7-day refund policy
Great customer support
Live chat support
Affiliate program
Proxy resell program
Negatives
Datacenter proxies only
No rotating proxies
No SOCKS proxies
No username/password authentication support
No API
No free trial
No bulk order discounts
Final Verdict
NewIPNow is a good choice if you need dedicated datacenter HTTP(S) proxies. They are fast, affordable, and compatible with almost all sites and services. But, if you need residential, SOCKS, or rotating proxies, you should look for another provider as you won't find any of them at NewIPNow.
Ratings
Awesome
Score by our metrics
Positive
Private, dedicated proxies
Proxies for specialized cases
Decent proxy pool size
Negatives
Datacenter proxies only
No rotating proxies
No SOCKS proxies
NewIPNow Alternatives
IPRoyal – besides datacenter proxies, this provider has residential, rotating, mobile, and SOCKS proxies and provides API access.
LimeProxies – this company has a massive proxy pool consisting of millions of residential, datacenter, SOCKS, and mobile IPs and a 3-day free trial.
ProxyRack – this proxy provider sells rotating and static datacenter proxies that support multiple protocols, including HTTP, HTTPS, SOCKS4, SOCKS4a, SOCKS5, and UDP.
FAQ
What payment methods does NewIPNow support?
Currently, NewIPNow accepts credit card, PayPal, and Bitcoin. The company claims to keep your payment information safe and secured.
What is Instant Proxy Refresh?
It is a NewIPNow's feature that allows you to get a new set of IPs with just one click of a button.
Are NewIPNow proxies compatible with Facebook, Google, and Instagram?
Yes, NewIPNow proxies work with Facebook, Google, Instagram, and any other application that supports HTTP(S) proxies.