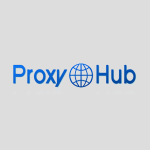 Proxy-Hub is a popular proxy provider based in Ajman, the UAE. It has sold dedicated private and semi-dedicated private proxies for over 14 years. The affordable prices and fantastic customer support make it one of the best options on the market, but there are more features you need to consider before subscribing.
That's why we'll be reviewing Proxy-Hub proxies and its service so you can decide if this is the right proxy provider for your needs or if you need to look out for another brand.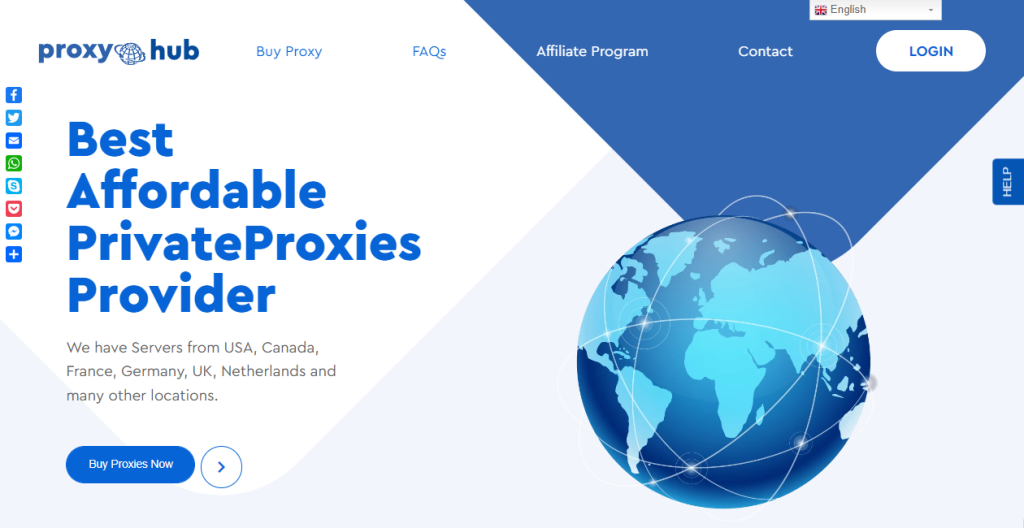 Proxy-Hub Introduction
Proxy-Hub is one of the oldest proxy providers on the internet, offering dedicated private and semi-dedicated private proxies since 2008. It has a great refund policy that makes you feel it's a trustworthy service that cares about customer satisfaction.
The company sells affordable proxies to individuals and businesses of all sizes, providing packages with 10 private proxies and up to 2,000 private proxies. Plus, there's an option to customize your proxies plan if you have specific requirements. So everyone can find the plan that suits their needs and budget.
Proxy-Hub proxies support SEO tools, sneaker bots, social media, market research, data scraping, classified ad posting, general anonymous browsing, etc.
Proxy-Hub Features
With over 200 locations in the United States and Europe, Proxy-Hub has excellent location coverage. It has servers in the US, UK, Canada, Netherlands, Germany, France, and other locations.
When buying your proxies, you have three options to choose from – USA proxies, Europe proxies, and a mix of USA & Europe proxies. You can even mention a specific state or city in the order note that the company will allocate if available.
Another great thing about this brand is that it sends you a new group of proxies each month, but you also have the option to keep the same. It also ensures any dead IP addresses get replaced.
When it comes to the size of its proxy pool and the source of proxies, Proxy-Hub has thousands of IP addresses that are legally sourced and leased. Compared to other proxy providers on the market, it has a small proxy pool as there are brands offering tens of millions of IP addresses. But quality is more important than quantity, and being legally sourced ensures that.

Types of Proxies
All Proxy-Hub proxies are private or high anonymous proxies that don't identify as proxies when communicating with other servers. The two main types of proxies it sells are dedicated private proxies and semi-dedicated private proxies.
The dedicated proxies offer exclusivity as they are used only by one user at a given time. This makes them more reliable and secure but also more expensive. The semi-dedicated proxies are shared with several users simultaneously, so they don't provide the exclusivity and security of dedicated proxies. That's why they are cheaper than dedicated proxies.
Proxy-Hub semi-dedicated proxies are shared with a maximum of 3 users at the same time, so they are a good budget-friendly alternative to dedicated proxies.
When making an order, Proxy-Hub gives you four proxy categories to choose from:
semi-dedicated private proxies
dedicated private proxies
ticketing proxies
shopping & sneaker proxies.
All Proxy-Hub proxies support IP authorization and username/password authorization methods. In terms of protocol, they only support HTTP, so the lack of HTTPS and SOCKS proxies is definitely a downside.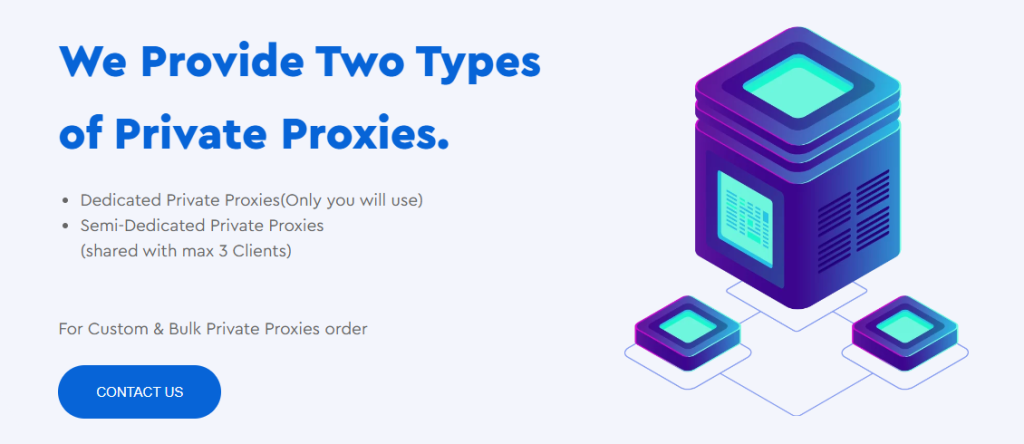 Proxy-Hub Proxy Speed and Performance
The lack of information about Proxy-Hub's proxy speed is a shame, but that's probably because the company is focusing on proxies for scraping.
What we know is that its proxies have unlimited bandwidth, and dedicated proxies with unlimited bandwidth should allow you to do whatever you want with them. They have 99% uptime which is above the industry average.
Additional Tools
Not all proxy providers offer additional tools, but Proxy-Hub is not one of them. This brand offer API access, which can be very useful, depending on what it offers.
Unfortunately, the brand doesn't state what its API can do, only that you can retrieve your proxy list remotely. So if you're interested in using its API, you can contact the support team for more information.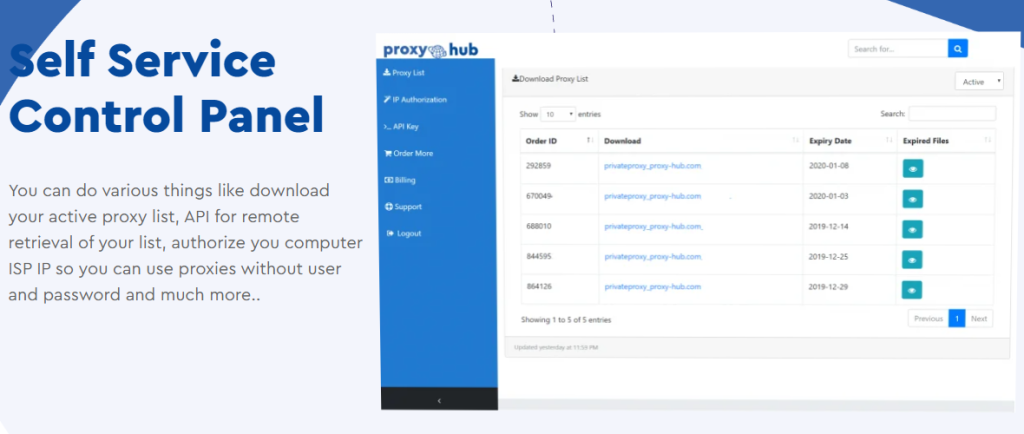 Purchase Simplicity
The company's site is clean and sleek, so you can easily find all the plans it offers. Each plan explains exactly what you get, so you can easily pick the one that's most convenient to your needs and budget.
Once you select the desired plan, the next step is choosing the category of proxies and their location. You can choose a monthly or annual billing cycle and whether you want to keep the same IPs every month.
Proxy-Hub Pricing
This proxy provider has affordable proxies, offering semi-dedicated proxies for as little as $1 per proxy or even less if you order a larger quantity. For example, the lowest semi-dedicated proxy plan consists of 10 proxies and costs $10 per month, which is paying $1 per proxy.
But the highest plan, which costs $1,200 per month, provides you with 2,000 proxies, bringing the price down to $0.6 per proxy.
In terms of dedicated proxies, the lowest plan costs $20 for 10 proxies per month, which means you get one dedicated proxy for $2. But, if you order more proxies or choose a larger plan, you'll get a better deal. For example, you can get 2,000 dedicated private proxies for $2,300 a month, which is paying $1.15 per dedicated proxy.
What sets this provider apart from others is the 3-day money-back guarantee. This allows you to try its proxies and see how they work for three days. If you're unhappy with them for any reason, Proxy-Hub will provide you with a full refund.
So although it lacks a free trial, you can consider its 3-day money-back guarantee as a test period without worrying about ending up without proxies or money.
Proxy-Hub supports several payment methods, including PayPal, credit cards, and Bitcoin.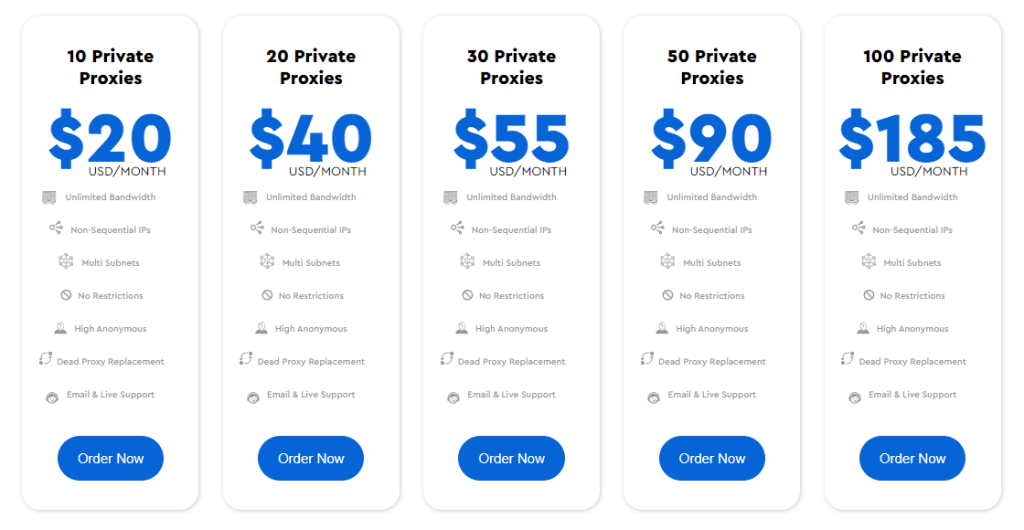 Proxy-Hub Discounts
Proxy-Hub gives you a 5% lifetime discount when making the first purchase. It also offers bulk order discounts, reducing the price of proxies as you increase the number of proxies you order. You can also enter a promo code if you have one to get an additional discount.
Is Proxy-Hub Legit or a Scam?
Proxy-Hub is a legitimate proxy service that caters to clients all over the world. Its 3-day money-back guarantee gives you peace of mind when making an order.
Customer Support
Here's another great thing about this proxy service. It gives you two options to communicate with a support agent: via email or Skype. They respond quickly to emails, giving you all the required information to help you solve your problems or get the answers you need.
The Skype option is even better, allowing you to communicate with a live agent and get the information you need ASAP. The only downside is the lack of live chat support on the site, as not all users can or want to communicate via Skype.

Can You Earn Money With Proxy-Hub?
Yes, the company has an affiliate program that gives you 10% of your referral sales. All you need to do is sign up, promote the brand, and get an affiliate fee for every new client you bring.
Proxy-Hub Pros and Cons
Proxy-Hub may seem like a great proxy provider, but it's not perfect. It has its flaws you need to be aware of. So here are the major pros and cons of this brand that will help you figure out whether you want to use its service or not.
Positive
Great location coverage
Legally-sourced proxies
A decent proxy pool size
Private proxies
IP authentication and username/password authentication support
Great customer service
Easy to purchase
Affordable proxies
Good discounts
3-day money-back guarantee
API access
99% uptime
Affiliate program
Negatives
No information about the proxy speed
No free trial
Small proxy pool
No SOCKS support
No live chat support
Final Verdict
Overall, we recommend Proxy-Hub because of its affordable and legally-sourced private proxies, great customer support, impressive location coverage, and the 3-day money-back guarantee that should give you enough time to see if the proxies are fast enough for your needs. But, if you're looking for SOCKS proxies, this brand is not for you.
Ratings
Good
Score by our metrics
PROS
Great location coverage
Legally-sourced proxies
A decent proxy pool size
CONS
No information about the proxy speed
No free trial
Small proxy pool
Add your review
|
Read reviews and comments
Proxy-Hub Alternatives
Having a few options to compare and consider is always a good idea, so here are a few more proxy providers to have in mind:
Mars Proxies – this company offers ethically-sourced dedicated residential proxies that have fast speeds and high success rates.
Anonymous-Proxies – this provider offers a variety of proxies and flexible plans, including SOCKS proxies.
Shifter – this proxy provider has a massive proxy pool consisting of over 31 million residential IPs and tens of thousands of datacenter IPs.
FAQ
When will you get your proxies after making the payment?
Proxy-Hub will deliver your proxies within 48 hours after making the purchase.
From how many locations can you use your Proxy-Hub proxies?
You can use your proxies under one username from up to two locations at the same time.
Where will you get your purchased proxies?
Proxy-Hub will send you an email with your proxies. But, your purchased proxies will also be added to your Proxy-Hub account dashboard.