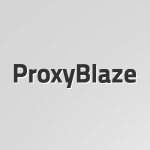 ProxyBlaze is an Indian proxy service established in 2010. It offers private SOCKS4/5 proxies and dedicated proxy servers to small and medium-sized businesses worldwide as well as anyone who wants to stay anonymous on the web.
While the low prices of ProxyBlaze proxies may attract you, the site looks like it hasn't been updated for quite a while, so we can't really know how accurate the information is. Still, we'll try and dig up any information available so we can give you as honest a ProxyBlaze review as possible.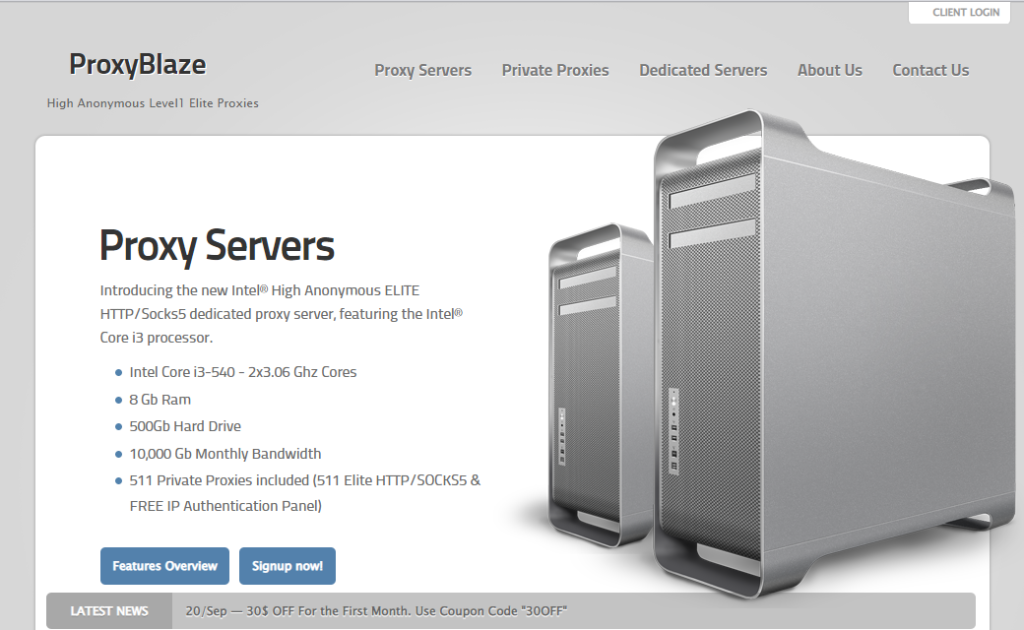 ProxyBlaze Introduction
Founded in 2010, ProxyBlaze seems like it has been providing US private proxies and dedicated proxy servers for over a decade. Its high anonymous level 1 or elite proxies are mostly purchased and used by small to medium-sized businesses.
That's because these proxies provide the highest degree of anonymity, so they are used for both personal and business purposes. For example, you can use them to bypass geographic filters, avoid account deletion, avoid search engine blocks, and hide your identity from competitors.
The ProxyBlaze website, however, looks outdated, so you can't be sure about the accuracy of the information provided. You know what they say, messy site – messy company. And that's not what reputable companies deal with.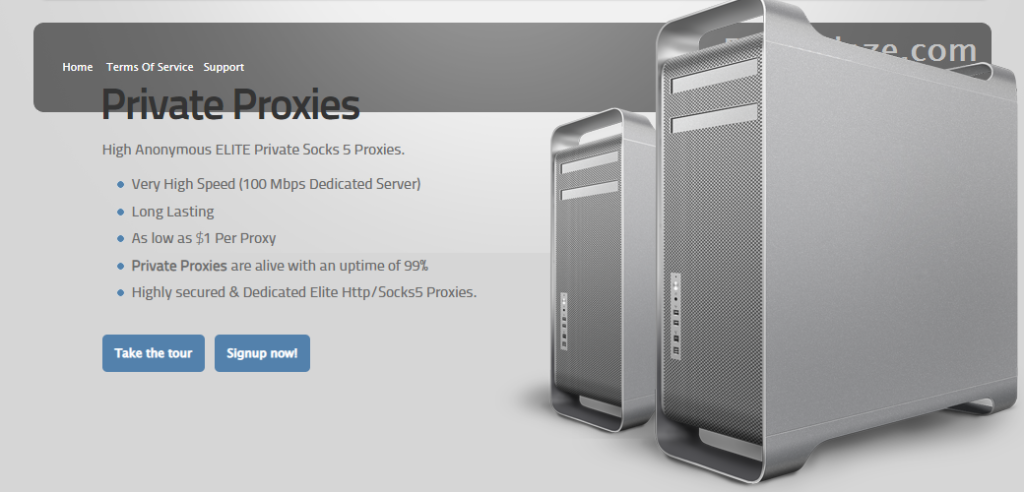 ProxyBlaze Features
The most important features of any proxy provider are its proxy pool size, location coverage, and the way it collects its proxies.
Unfortunately, ProxyBlaze doesn't give any information about the size of its proxy pool. This is not a good thing because proxy providers like to boast about the high number of IP addresses in their proxy pools. So hiding this information makes us think that it probably has a small proxy pool.
When it comes to the GEO location of proxies, ProxyBlaze only sells private proxies from the United States. Currently, the only available locations are Los Angeles, New York, Chicago, Seattle, Dallas, Atlanta, and Phoenix. The lack of global proxies is a clear drawback for anyone looking for IP addresses from regions outside the US.
However, its dedicated proxies are from two locations – the United States and Germany.
Another confusing thing about ProxyBlaze proxies is their source. Reputable companies like to point out the fact that their proxies are ethically sourced. Once again, we couldn't find such information on the company's site.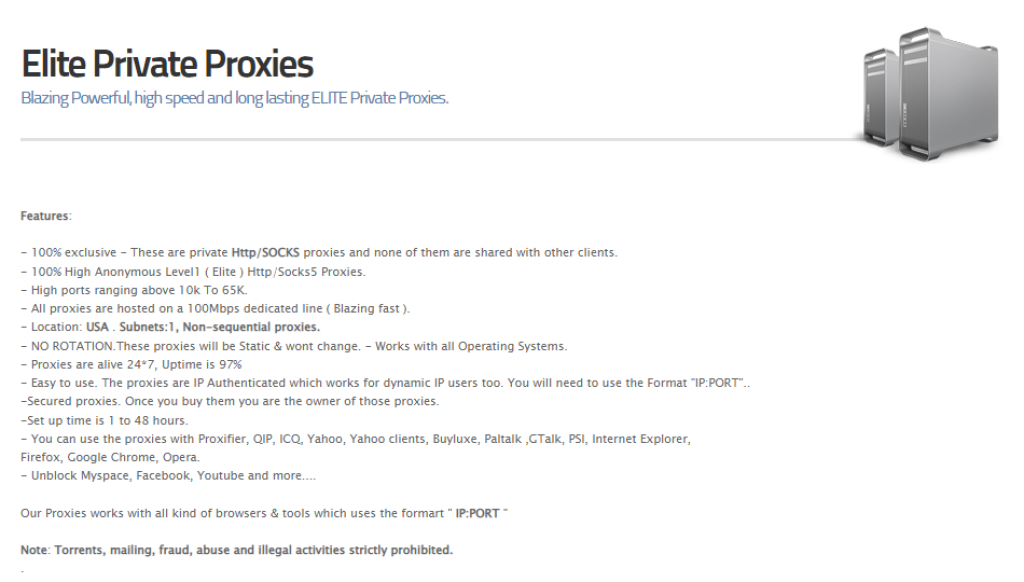 Types of Proxies
Figuring out the types of proxies ProxyBlaze provides was confusing because of the messy site. From what we've found, the company offers private proxies and dedicated proxy servers.
The private proxies are elite proxies, which means they provide the highest degree of anonymity. They support SOCKS4/5 and HTTP protocols and an IP authentication method only. They are datacenter static proxies as this provider doesn't offer rotating proxies.
The dedicated proxies are datacenter proxies as well, so if you're looking for secure datacenter proxies, these should be a good option. That's because dedicated proxies are not available to multiple users, which makes them more reliable and secure.
All ProxyBlaze proxies support HTTP and SOCKS4/5 protocols.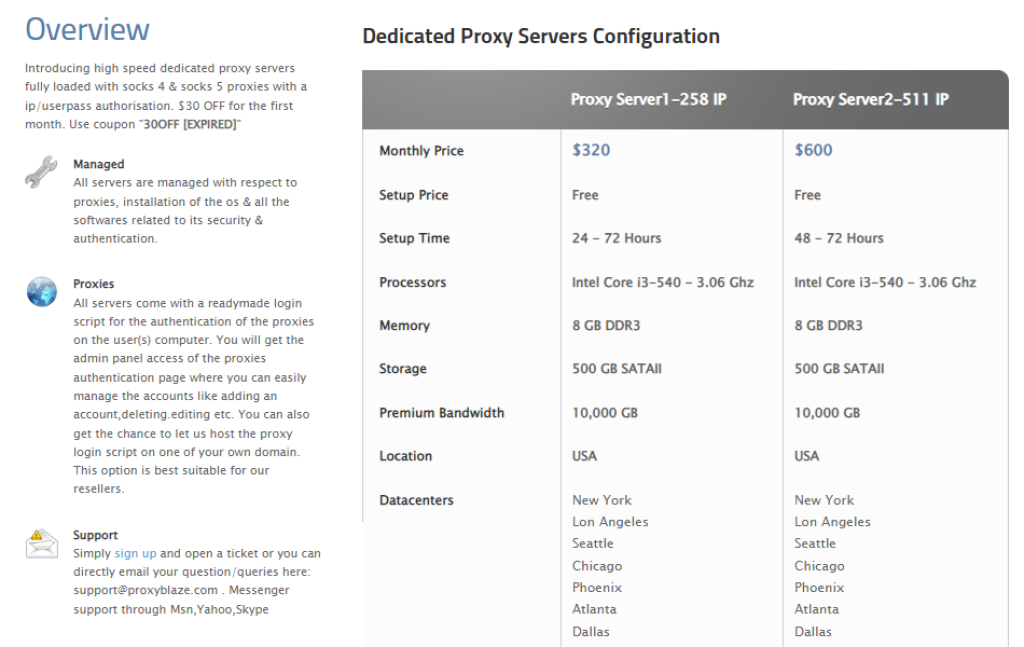 ProxyBlaze Proxy Speed and Performance
ProxyBlaze proxies are hosted on a 100Mbps dedicated line which is no longer impressive as most proxy providers have moved on to 1Gbps or even 10Gbps. In other words, they are slow, which is not what you want.
Their uptime is 97%, which is once again not the best uptime on the market, with companies offering proxies with up to 99.99% uptime. This means you can easily find more reliable proxies than ProxyBlaze if 24/7 uptime is crucial for your usage case.
Additional Tools
We couldn't find information about ProxyBlaze offering any additional tools. Considering the fact that many proxy providers on the market offer scrapers, proxy speed checkers, API, and other perks, this is another flop.
Purchase Simplicity
Buying proxies from ProxyBlaze is quite simple. You choose the desired category, for example, private proxies, and go to Order Now. Once you select the type of proxy based on protocol, HTTP or SOCKS4/5, you go to the next step, where you select the number of proxies and enter the required information.
The provider says it will deliver your proxies within 48 hours, but we found that the delivery can take up to 72 hours, which is slow compared to other proxy providers.

ProxyBlaze Pricing
In terms of pricing, ProxyBlaze has cheap proxies, which is probably the biggest strength of this company. You can pay $1 per proxy or even less if you buy in bulk. You'll pay the same price if you choose HTTP or SOCKS4/5 proxies.
For example, 10 HTTP private proxies cost $10 per month, and the same price applies to 10 SOCKS private proxies. The only package that has proxies more expensive than $1 per proxy is the lowest one, consisting of 5 proxies for $7.
While ProxyBlaze is one of the most affordable proxy providers on the market, it doesn't offer a free trial or money-back guarantee.
Another thing we've noticed when trying to buy its proxies is that you can only buy them with PayPal or a cryptocurrency like Bitcoin, Ethereum, or Litecoin. Although the site says it supports multiple payment methods, including credit cards, you only have two options to choose from when ordering the proxies – PayPal or crypto. And, you have to pay an additional 5.5% PayPal and Gateway fees.
ProxyBlaze Discounts
ProxyBlaze allows you to enter a promo code when making an order if you have one. It also offers a discount if you buy 500 or 1,000 proxies. In that case, you'd pay less than $1 per proxy, which is really cheap. More points for ProxyBlaze.
Is ProxyBlaze Legit or a Scam?
When visiting the ProxyBlaze website for the first time, you may get the impression that it's probably a scam. Despite the aged appearance of the site, the company seems legit as there are customers praising its low prices.
There are definitely many downsides that make this brand not the best option for proxy users, but it still doesn't mean it's a scam.
Customer Support
The only way to reach ProxyBlaze is to send an email and open a ticket. The lack of live chat support and phone number to call an agent is a significant disadvantage as most users today prefer talking to or chatting with a live agent to get the support or answers they need ASAP.
We've sent them an email to find out as much information as possible and got their reply within 24 hours. So if you need fast support, you most likely won't get it with Proxy Blaze. While they do have a FAQ section and a knowledge base, it's apparently empty, and the last announcement from the team was made back in 2014.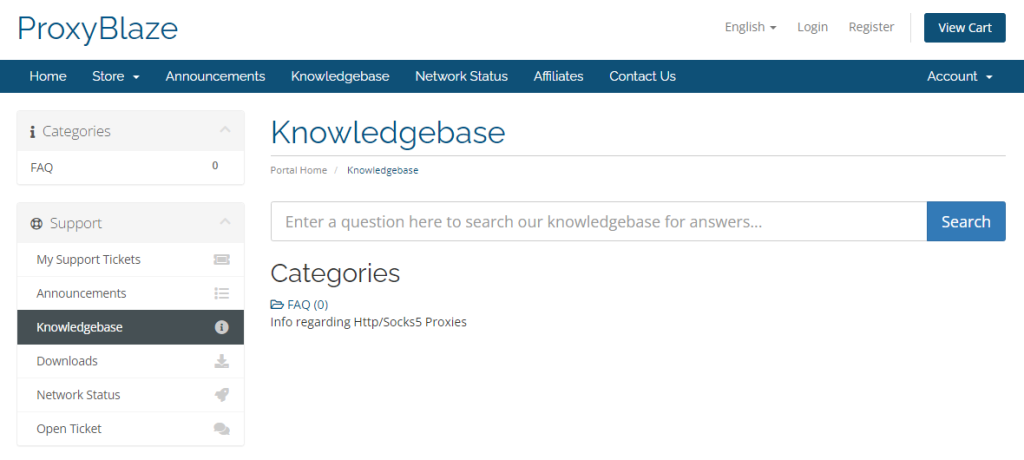 Can You Earn Money With ProxyBlaze?
ProxyBlaze has an affiliate program that allows you to earn money. The affiliate earning percentage one time is 10%, and the minimum affiliate payout amount is $30. But, if the user is already using a promo code or any other special offers, no affiliate commission will be counted.
ProxyBlaze Pros and Cons
It's time to see the major pros and cons of ProxyBlaze to bring you closer to your buying decision.
Positive
Cheap proxies
Elite private proxies
HTTP and SOCKS4/5 proxies
Static proxies
Bulk order discounts
Affiliate program to join
Easy to purchase
Negatives
No global proxies
No rotating proxies
No residential proxies
Small proxy pool
Limited location coverage (only US proxies)
Slow speeds and low uptime
Slow customer support
No free trial and money-back guarantee
No additional tools
Slow delivery (up to 72 hours)
No credit card payment option
No username/password authentication method
Final Verdict
ProxyBlaze is definitely not one of the top proxy providers on the market, despite its low prices. The limited location coverage, small proxy pool, bad customer support, slow speed, and inability to pay with credit cards are just a few of the many drawbacks that will make you consider another option before subscribing.
On the bright side, it has cheap proxies and bulk order discounts, so if you need US proxies for smaller tasks and are on a tight budget, ProxyBlaze may do the job just fine.
Ratings
Average
Score by our metrics
PROS
Cheap proxies
Elite private proxies
HTTP and SOCKS4/5 proxies
CONS
No global proxies
No rotating proxies
No residential proxies
Add your review
|
Read reviews and comments
ProxyBlaze Alternatives
Since ProxyBlaze is probably not the best option for your proxy needs, here are a few more proxy providers you can consider:
IPRoyal – this provider offers affordable, ethically sourced, and fast private, residential, and datacenter proxies from locations all over the world.
Proxy-Cheap – this brand has cheap proxies as well, but it has a large proxy pool and greater location coverage than ProxyBlaze. And it also has live chat support.
ProxyRack – this proxy provider has a solid session control system, supporting both sticky and rotating ports. It has a big proxy pool of 5 million IPs from worldwide locations.
FAQ
How to cancel ProxyBlaze services?
To cancel ProxyBlaze services, you need to open a support ticket and request cancellation.
Does ProxyBlaze offer rotating proxies?
No, ProxyBlaze doesn't have rotating proxies. All of its proxies are static, so if you need rotating proxies, you should find another proxy provider.
How many login accounts for Private Proxies are provided?
You'll get only one login account for private proxies. You'll be charged extra for any additional account.