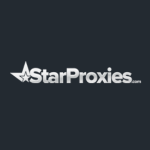 StarProxies is an Indian proxy service established in 2015. It provides dedicated private and shared proxies, as well as residential proxies from the United States and a few worldwide locations. Though the company promotes itself as a premium proxy provider for serious marketing and web automation, review websites reveal something else.
So if you've been considering StarProxies as your proxy provider, we recommend you read our honest review and find out the most important things about it before subscribing. You'll thank us later!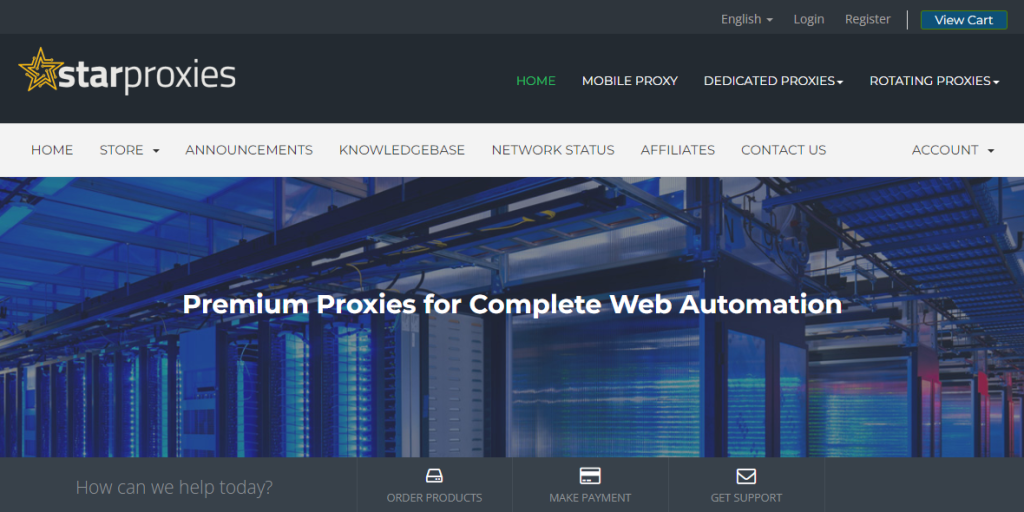 StarProxies Introduction
StarProxies has been selling premium proxies for about seven years. The company is focused on marketing and web automation, so it offers premium rotating and private dedicated proxies. It also provides shared, social media private proxies, and other types of proxies.
The company states its private rotating proxy pool consists of worldwide datacenter and residential IP addresses, allowing you to get a new IP every five minutes. This makes its proxies ideal for automation, scraping, or any other task that requires many IPs per session.
StarProxies has different plans for each category of proxies, giving its customers options to choose between recurring and one-time billing.

StarProxies Features
Currently, the company offers shared proxies only from Los Angeles, United States. Its dedicated private proxies come from four US locations – Los Angeles, New York, Texas, and Illinois, three locations in Europe – London, the UK, Germany, and Amsterdam, Netherlands, and from APAC, Australia.
When it comes to its rotating proxies, StarProxies has three geo-based pools to choose from – Europe, the USA, and worldwide. The size of the premium rotating proxy pool consists of over 100,000 residential and datacenter IPs.
Compared to other proxy providers on the market, it doesn't have an impressive proxy pool size, but it can get the job done. StarProxies uses a P2P network, so its proxies are completely anonymous.

Types of Proxies
StarProxies has a good variety of proxies to choose from, offering rotating, shared, dedicated private, and social media private proxies.
Its premium rotating proxies will provide you with a new high anonymous IP address every 5 minutes or up to 20 minutes. This makes them perfect for complex tasks such as web scraping and automation.
Its dedicated private proxies are entirely anonymous, secure, and reliable as they are exclusive only to one user. You can use them for SEO optimization, scraping, social media, and any other activity that requires a high level of security and anonymity. They rotate monthly at your request.
StarProxies's shared proxies are semi-anonymous as they are shared between three users simultaneously, hence the lower price. You can use these non-sequential IPs for account creation, posting, etc.
The social media private proxies from StarProxies will help you automate daily social media tasks such as multiple account management. These proxies work with all major social media platforms, including Facebook, Instagram, Twitter, LinkedIn, Tumblr, Snapchat, and others.
The brand also offers VIPN, a 3G/4G IP changer system that can get you as many unique whitelisted mobile IPs as you need. There are also Ticketmaster super dedicated proxies you can use on ticketmaster.com.
All StarProxies proxies allow only HTTP(S) connections and IP authentication support, so the lack of SOCKS5 support and username/password authentication is definitely a flop.
StarProxies Proxy Speed and Performance
StarProxies proxies are on 1Gbps servers, so you should expect decent speeds. Its proxy servers have 99.99% uptime, which is impressive. They also come with unlimited bandwidth, so no worries about reaching the bandwidth limit.
While all this indicates a good proxy speed and a decent proxy performance, some customers have a different experience and opinion, saying StarProxies proxies are slow and most of the time not working. Well, that's a warning sign you definitely need to be aware of when choosing a proxy service.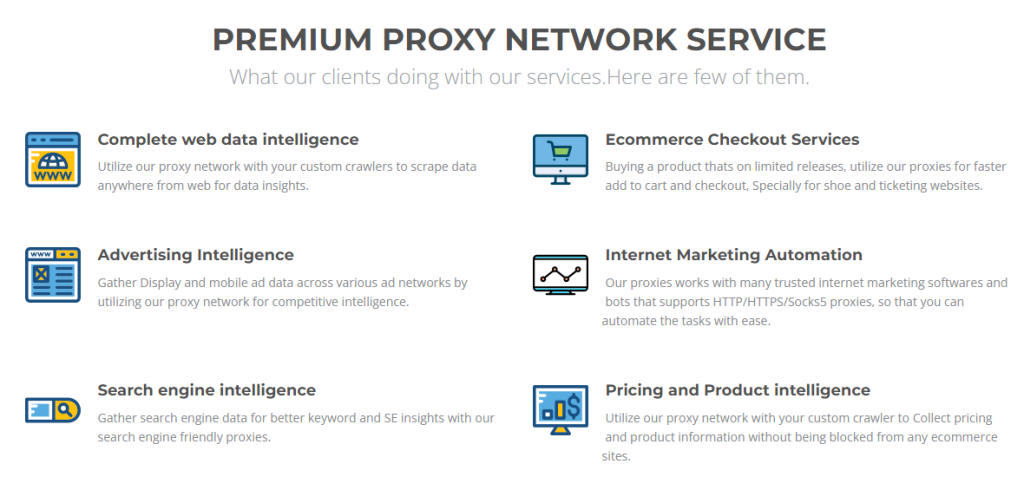 Additional Tools
The most common additional tools offered by proxy providers on the internet are scrapers, proxy speed checkers, and API. Although it's unclear whether StarProxies offers any additional tool, the mobile proxy category page says customers can use API link to change IPs remotely. This can be useful to mobile proxy users, so we'll consider it a plus.
Purchase Simplicity
Making an order on StarProxies site is really a no-brainer. You go to the proxy category you need, choose one from the available plans, and go to the checkout where you enter your personal details and billing information.
Of course, you need to be registered and have an account to make the order.
StarProxies Pricing
StarProxies may not be the cheapest proxy provider on the market, but it does have affordable proxies. It allows you to choose between recurring and one-time billing for the smaller plans, with the recurring billing offering you a minimal discount that's not even worth it.
Besides, some customers complain that they weren't able to cancel the automatic billing or the subscription, so we recommend avoiding recurring billing with this provider.
The starting dedicated private proxy plan costs $10 for five proxies, which means you'll have to pay $2 per proxy. It's not the lowest price out there, but it's still affordable. For plans bigger than 30 proxies, the price is significantly reduced. For example, 50 dedicated private proxies cost $75 a month, and 100 proxies cost $130 a month. That's paying $1.5 and $1.3 per private dedicated proxy, and that's a good deal.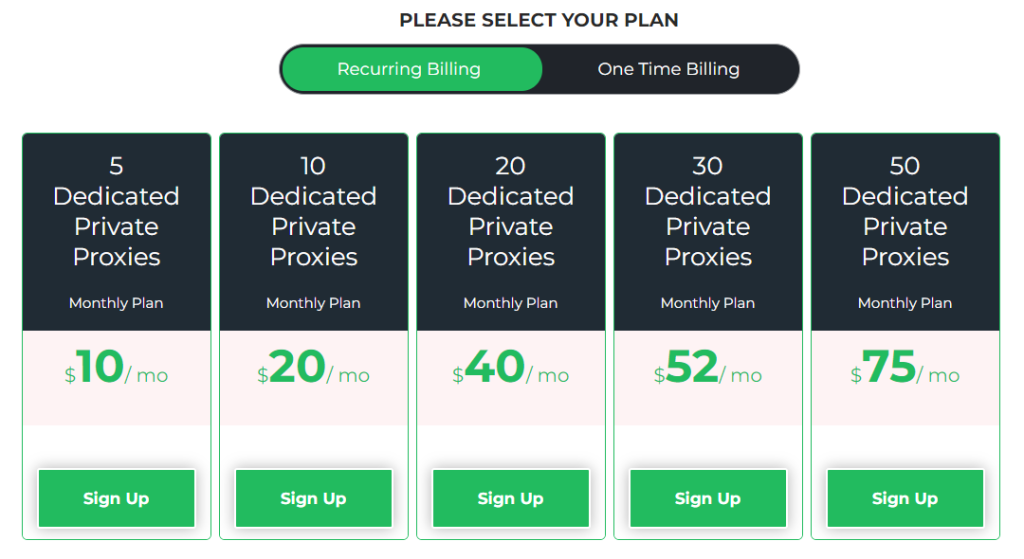 Shared proxies are cheaper, as expected, with 10 proxies costing only $9 a month and 100 shared proxies costing $90. This means you'll pay $0.9 per shared proxy a month.
Social media private proxies are a bit pricier, with plans ranging from $15 for five proxies up to $190 for 100 proxies a month.
The dedicated rotating proxies are one of the most expensive proxies from StarProxies, but they provide the highest degree of online anonymity and security for tasks that require multiple IPs. The starting plan consists of 10 proxies and costs $34 a month, or $3.4 per proxy, which is quite expensive.
Just like with the other types of proxies, the price decreases as the quantity of ordered proxies increases. So you can get 100 dedicated private proxies for $220, which is $2.2 per proxy. That's a better deal, although it's not suitable for those looking for a small number of proxies.
In terms of the Ticketmaster dedicated proxies, you have plans costing $270 for 100 proxies, $390 for 150 proxies, and $600 for 250 proxies.
With StarProxies, you won't get a free trial. Instead, you get a 2-day paid trial or refund policy for the smallest plan only. So if you do decide to go with this proxy provider, you better subscribe to the smallest plan available.
The payment methods that the company currently supports are PayPal and credit cards.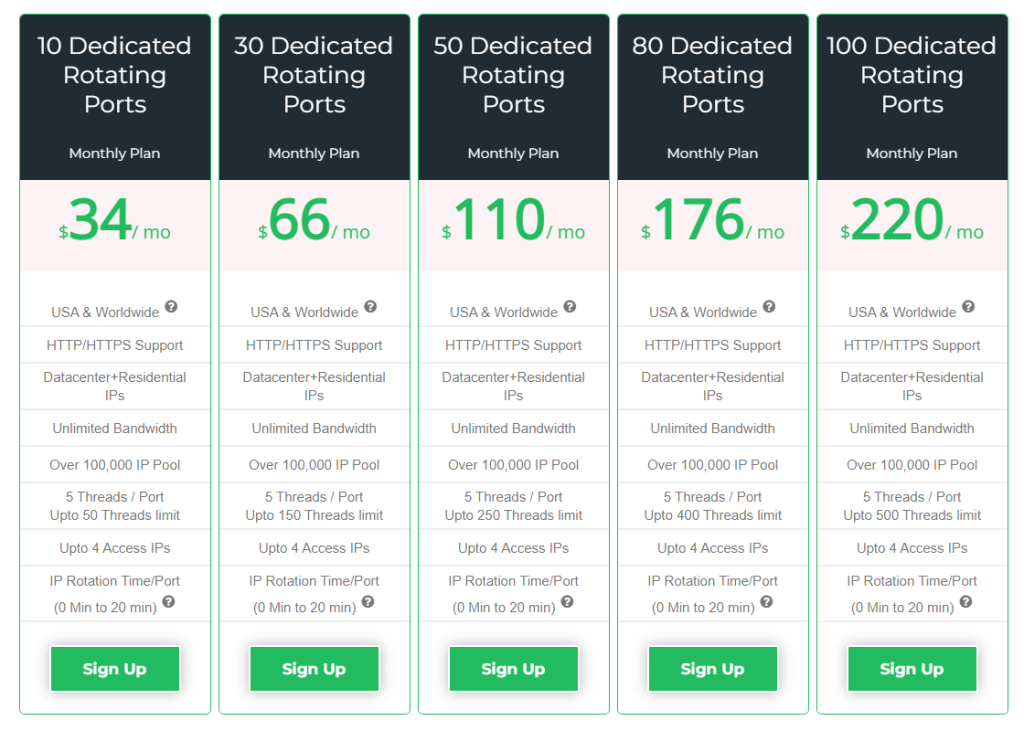 StarProxies Discounts
Like most proxy providers, StarProxies sells its proxies cheaper if you buy them in larger numbers. It also gives you a 5% off on every proxy plan the first time you make a purchase. The site allows you to enter a promo code if you have one for an additional discount.
Is StarProxies Legit or Scam?
Although StarProxies has existed for about seven years, apparently, it sometimes leaves its customers without functional proxies and the ability to cancel their subscriptions.
What can be worse than paying for a service you're not satisfied with month after month without being able to stop it from taking your money from your account? It's just a risk you don't have to take, as there are plenty of other trustworthy proxy providers out there.
Customer Support
The customer support of StarProxies is terrible. There's no live chat or phone call support, so you can only contact the support team by opening a ticket and hope you will receive a response sometime in the future.
Some customers say StarProxies has no customer support as they never reply, and others say the support team is unfriendly and unhelpful. All this makes for customer support no proxy user wants or deserves.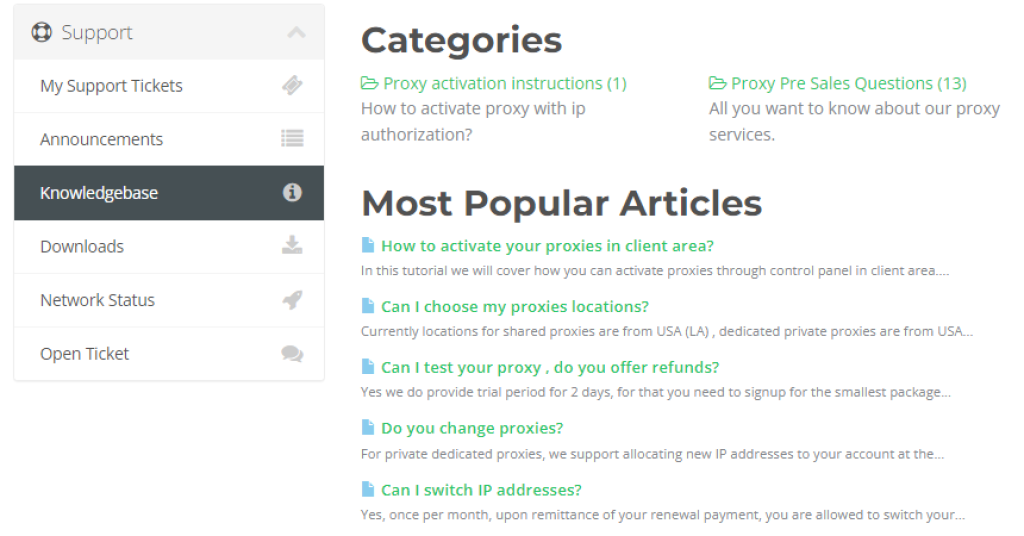 Can You Earn Money With StarProxies?
The company's site has an affiliate section, so it probably has an affiliate program to join that will allow you to earn money for each client you bring. Unfortunately, we couldn't find more information about it as we weren't able to reach its support team.
StarProxies Pros and Cons
Knowing this proxy provider's key pros and cons will help you make the right buying decision.
Positive
A great variety of proxies
A decent location coverage
Good discounts when buying more proxies
API
Unlimited bandwidth
Easy to Purchase
Affiliate program
2-day refund policy
Negatives
A small proxy pool
No SOCKS5 support
No username/password authentication support
Slow proxies
Suspicious performance
No free trial
Bad customer support
A refund policy only on the smallest plans
Final Verdict
When picking a proxy provider, you should go with a trustworthy company that cares about customer satisfaction, but StarProxies is clearly not one of them. The slow proxies, lack of SOCKS5 proxies, and no free trial make the situation even worse.
On the other hand, you have a good variety of affordable proxies to choose from, so it's up to you to decide if StarProxies is worth the risk.
Ratings
Below average
Score by our metrics
PROS
A great variety of proxies
A decent location coverage
Good discounts when buying more proxies
CONS
A small proxy pool
No SOCKS5 support
No username/password authentication support
Add your review
|
Read reviews and comments
StarProxies Alternatives
If StarProxies is not the best option for your proxy needs, here are a few more proxy providers to consider:
Mars Proxies – unlike StarProxies, this company offers fast and ethically-sourced private proxies at more affordable prices with a friendly support team that's available 24/7 to assist you.
Proxy-Cheap – this brand has cheaper proxies and a larger proxy pool than StarProxies, as well as live chat support to help you get the answers or assistance you need ASAP.
Proxy-Seller – this company has flexible payment options, excellent location coverage, and great customer support.
FAQ
Can you switch IP addresses?
Yes, StarProxies allows you to switch your IPs once per month.
Can you get username/password authentication instead of IP authentication?
No, StarProxies doesn't support IP authentication to prevent sharing of proxies.
Can you get a custom proxy plan?
Yes, StarProxies allows you to customize your proxy plan according to your needs. You just need to contact the support team and open a ticket.